Comics / Comic Reviews / More Comics
FVZA: Federal Vampire and Zombie Agency #3
By Leroy Douresseaux
March 24, 2010 - 13:15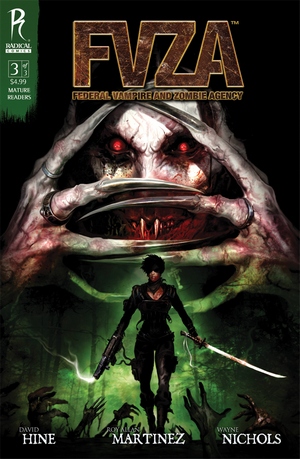 FVZA Federal Vampire and Zombie Agency #3 cover painting by Clint Langley
The Radical Comics series, FVZA: Federal Vampire and Zombie Agency, is based on the website www.fvza.org. This three issue miniseries from writer David Hine (Civil War: X-Men, Spider-Man Noir) takes place on an alternate-Earth that is like ours in every way except for the existence of a deadly disease that transforms humans into zombies and the existence of vampires. A new zombie outbreak forces the government to reactivate the Federal Vampire and Zombie Agency, the long dormant government task force that protected humanity from the blood-sucking, flesh-eating hordes beginning with the Civil War and continuing into World War II.
FVZA: Federal Vampire and Zombie Agency #3 presents the final showdown between the FVZA and the European vampire council. Led by the ruthless Chaucer and the vampire queen herself, Yaelis, these European bloodsuckers plan to infect the United States, hatching their plans from their underground headquarters in Los Angeles.
FVZA Agent Landra Pecos and her brother, Vidal (the grandchildren of Dr. Hugo Pecos, who worked on the project that created a vampire vaccine), lead separate squads into the murky tunnels beneath the city, on a mission to thwart the sinister plot of the undead. Even as the mission finds success, however, a tragic death, a stunning revelation, and then a shocking betrayal obliterate everything Landra knew to be true.
THE LOWDOWN: With the end of this series, or at least the end of the first miniseries, writer David Hine has offered the kind of "shocking conclusion" that writers usually reserve for apocalyptic sci-fi or use at the end of a movie like Scarface or The Godfather. Actually, this final issue reveals what the FVZA series was really all along – a family saga. It is not that I'm ignoring the fine art, but Hine delivers some superb storytelling here. It's tragedy with a killer Shakespearean ending.
POSSIBLE AUDIENCE: Readers looking for a special vampire comic book will find it in the exceptionally unique FVZA: Federal Vampire and Zombie Agency.
A
Based on the website, www.fvza.org, created by Richard S. Dargan.
Last Updated: September 6, 2021 - 08:15