Junji Ito's Fragments of Horror manga review

By Leroy Douresseaux
June 23, 2015 - 11:39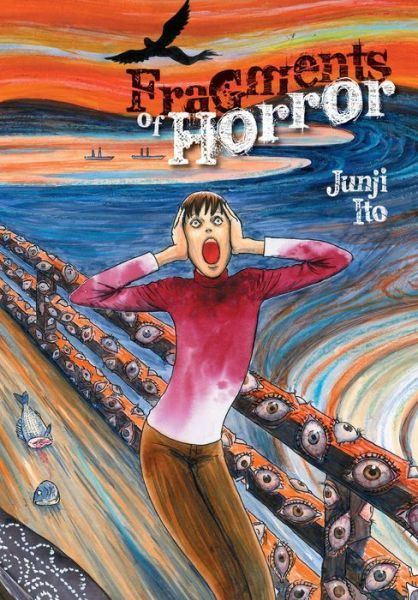 Fragments of Horror cover image is courtesy of barnesandnoble.com.
Rated "T+" for "Older Teen"
Fragments of Horror
is a collection of manga short stories from mangaka
Junji Ito
, the creator of such stellar horror manga as
Uzumaki
and
Gyo
. At the time of its original release,
Fragments of Horror
was Ito's return to horror after an eight-year absence from the genre.
Fragments of Horror
contains eight short stories and an "Afterword" written by Ito in 2014. VIZ Media recently published an English edition of
Fragments of Horror
under its VIZ Signature imprint. The release is a deluxe, hardcover print edition carrying a MSRP of $17.99 U.S. and $21.00 CAN, and it is rated "T+" for "Older Teens."
Fragments of Horror
opens with the story, "Futon." The story focuses on a young couple who eloped and are currently living together. However,
Madoka
discovers that her boyfriend,
Tomio
, has basically sealed himself inside a futon. He blames "dark nature spirits" as the reason for his current predicament. Madoka is getting tired of this nonsense, but what if Tomio is telling the truth? Madoka and Tomio return in another story, the neck-traumatizing "Tomio · Red Turtleneck."
In "Wooden Spirit," a beautiful and historic wooden house turns crazy-creepy after a new tenant moves in with the current owners. Feeding and eating turn gruesome and bizarre in the tale, "Blackbird."
THE LOWDOWN:
In previous reviews of Junji Ito's manga, I have basically revealed myself to be an acolyte of this modern master of horror. There have been many adaptations of the work of famed horror and dark fantasy author, H.P. Lovecraft. There have also been countless comics inspired by Lovecraft. Junji Ito has named Lovecraft as an influence on his work. I will take that one step further and say that Ito is the true comics descendant of Lovecraft, and the stories in the Fragments of Horror manga convinces me that I am right.
I will say that not all of the eight stories contained in this volume are exceptional or great. The stories, "Futon" and "Magami Nanakuse," are good ideas that fall somewhat flat in execution. "Whispering Woman" is a classic gothic tale of troubled and haunted unions, but the ending snatches defeat from the jaws of literary, short story victory.
"Dissection-chan" is creepy and ultimately chilling. In this volume, the macabre "Blackbird" follows it, and together, the two stories make a blood-curdling one-two punch that might have made even Lovecraft gasp. Like a Sam Ramii movie, "Tomio · Red Turtleneck" is gleefully gruesome. "Gentle Goodbye" is a masterpiece; it is one of the best short comics that I have ever read. Every short story collection needs one truly great story that alone can make that collection memorable. The beautifully haunting "Gentle Goodbye," with its creepy poignancy, is that story.
POSSIBLE AUDIENCE:
Fans of Junji Ito and of horror/dark fantasy comics must have
Fragments of Horror
on their shelves.
Rating: A /10
Last Updated: January 24, 2022 - 11:00