VIZ Media Announces "Shiver: Junji Ito Selected Stories"
By The Editor
December 4, 2017 - 20:53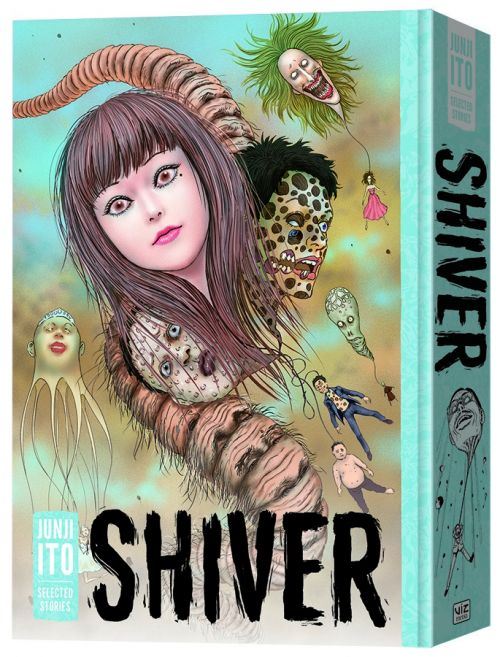 Shiver: Junji Ito Selected Stories Graphic Novel cover image
VIZ MEDIA ANNOUNCES THE RELEASE OF SHIVER: JUNJI ITO SELECTED STORIES
New Hardcover Edition From The Master Of Horror Manga Offers Nine Of The Creator's Most Nightmarish Tales
VIZ Media, LLC (VIZ Media), a premier company in the fields of publishing, animation distribution, and global entertainment licensing, delivers the chilling new release SHIVER: JUNJI ITO SELECTED STORIES on December 19th, 2017.
The new anthology from the critically acclaimed master of Japanese horror manga will debut as a hardcover edition under the VIZ Signature imprint. SHIVER: JUNJI ITO SELECTED STORIES contains nine of Junji Ito's best short stories, as selected by the author himself, presented with accompanying notes and commentary. SHIVER is rated 'T+' for Older Teens and carries a print MSRP of $22.99 U.S. / $32.00 CAN.
An arm peppered with tiny holes dangles from a sick girl's window… After an idol hangs herself, balloons bearing the faces of their destined victims appear in the sky… An amateur film crew hires an extremely individualistic fashion model and faces a real bloody ending… SHIVER offers nine fresh nightmares for the delectation of horror fans.
"Junji Ito has redefined the horror genre with his unique stories, which are equally chilling and surreal," says Masumi Washington, Editor. "SHIVER will thrill fans already familiar with Junji Ito and also introduce new readers to this renowned creator's work."
Manga creator Junji Ito made his professional debut in 1987 and has gone on to be recognized as one of the greatest contemporary artists working in the horror genre. His critically acclaimed titles include TOMIE and UZUMAKI, which were adapted into critically praised live-action films, as well as GYO, which was adapted into an animated feature film. TOMIE, UZUMAKI, GYO, and Ito's celebrated manga short story anthology FRAGMENTS OF HORROR are all published in English by VIZ Media in deluxe hardcover editions available under the VIZ Signature imprint. Ito's influences include classic horror manga artists Kazuo Umezu and Hideshi Hino, as well as authors such as Yasutaka Tsutsui and H.P. Lovecraft.
For additional information on SHIVER: JUNJI ITO SELECTED STORIES and other manga titles published by VIZ Media, please visit viz.com.
Last Updated: September 6, 2021 - 08:15