Comics / Comic Reviews / More Comics
Flash Gordon Comic Book Archives Volume 4
By Leroy Douresseaux
January 5, 2012 - 07:22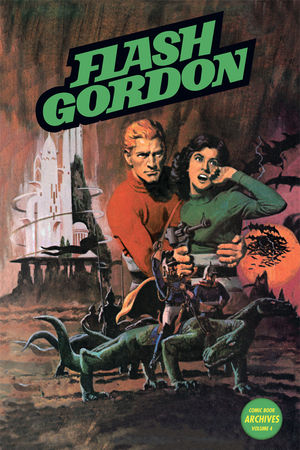 Flash Gordon Comic Book Archives Volume 4
Flash Gordon is the hero of the science fiction, newspaper comic strip, Flash Gordon, created by Alex Raymond and first published in 1934. The first Flash Gordon comic books were published in the 1930s and 1940s and were reprints of the comic strip. In the 1940s, Dell Comics began publishing Flash Gordon comic books with original stories from the mid-1940s to the early 1950s
Published by Dark Horse Books, Flash Gordon Comic Book Archives is reprinting Flash Gordon comic books that were produced by various publishers, including Dell Comics and Charlton Comics. Flash Gordon Comic Book Archives Volume 4 reprints Flash Gordon #19-27, which were published by Gold Key Comics from 1978 to 1980. Prior to Gold Key, there had not been a Flash Gordon comic book series since Charlton Comics' Flash Gordon #18 hit newsstands in 1970.
According to the introduction to this volume by Arthur Lortie, Gordon's nemesis, Ming the Merciless, was deposed as ruler of the planet, Mongo, in the 1930/40s continuity of the comics strip. Gold Key Comics staff writer, John David Warner restores Ming to power and returns Gordon, and his companions, Dale Arden and Dr. Hans Zarkov, to Mongo to battle Ming. Warner sends the three on an odyssey through Mongo's myriad regions as they try to build a coalition of kingdoms to defeat Ming.
Warner wrote issues #19-24, and writer/editor Gary T. Poole wrote the last three issues of the Gold Key series, #25-27. Columbian-born comic book artist and comics illustrator, Carlos Garzón drew every issue of the Gold Key series, except for two issues. Garzón was also an assistant to Al Williamson, a noted Flash Gordon comic book artist who had grown up idolizing Flash Gordon creator, Alex Raymond. The two issues not drawn by Garzón were drawn by New York City-born and bred artist and illustrator, Frank Bolle.
I received a review copy of Flash Gordon Comic Book Archives Volume 4 because Dark Horse was doing some shelf cleaning, getting rid of some books to make way for review copies of newer titles. I didn't expect to like this because I mistakenly associated Gold Key Comics with substandard material, mainly because it has been decades since I've read a Gold Key comic book. I was wrong to prejudge these Flash Gordon comic books because I actually had a great time reading them.
Warner and Poole stick to the pulp fiction and weird fiction roots of Flash Gordon without being hokey. These are smoothly-written sword-and-fantasy tales that recall Silver Age DC science fiction and fantasy comic book titles. Both writers build tension by spinning Flash Gordon's fiery, man-of-action nature: never use words when fists can be just as articulate, in diverse conflict scenarios. That is contrasted against the personalities of Gordon's co-stars. Dale Arden is quick to lay her head on Gordon's strong chest, but she is something of a woman-of-action herself. Combine her with the eccentric Zarkov, who is also not above kicking some butt, and the Gold Key Flash Gordon is unpredictable. This is because the co-stars are not window dressing simply meant to make Gordon look like the great White hero; Arden and Zarkov are also capable of moving the story forward and resolving problems.
Plus, Warner and Poole are quite inventive when it comes to creating settings and plots. Two that stand out for me are. Flash Gordon #21's "Wolf in the Fold" is rousing political suspense thriller and moving love story (surrogate father and son). "The Enchanted City" from issue #27 is quirky and engaging.
Both series artists produce good work. Carlos Garzón's compositional style and design recall both Raymond and Williamson, especially the latter. In many ways, the art is Williamson-inspired or has his visual sensibilities. Garzón's art on issues #19-20 is not good. After a two-issue break, he returns in Flash Gordon #23 and hits his stride with his best Williamson-inspired work.
However, I prefer Frank Bolle's two-issue run (#21-22). His solid figure drawing and draftsmanship give Warner's scripts, for those two issues, added dramatic heft. Perhaps, I like Bolle's work here so much because it reminds me of one of my favorite artists, the late and still great, Gil Kane.
I am glad to say that I was pleasantly surprised by this collection. I think Flash Gordon fans should definitely consider either purchasing this pricey volume or finding the originals through online dealers. The "pleasant surprises," like this one are the books that justify archive editions.
Last Updated: August 31, 2023 - 08:12