Comics / Comic Reviews / More Comics
Review: Flash Gordon – Kings Quest TPB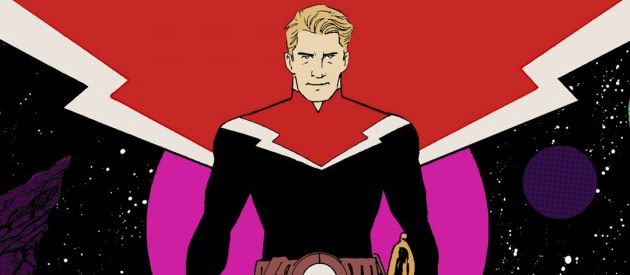 By Philip Schweier
January 2, 2017 - 14:09
Back in the 1970s, there were numerous books published featuring the collected strips of famous newspaper characters:
Little Orphan Annie
,
Dick Tracy
and
Flash Gordon
among others. With the advent of
Star Wars
in 1977, it was no time at all before such nostalgic properties became fodder for the newly discovered fan base.
I'd seen a few chapters of the original
Flash Gordon
serial starring Buster Crabbe, but most of my exposure to the character came by way of the
Saturday morning cartoon
. The 1980 live action film debuted, and spoiled it for me. Today, many fans look upon the film with fondness, celebrating its cheesy goodness as one interpretation among many.
So when handed
Kings Quest
to review, I expected a rehash of the
Defenders of the Earth
cartoon, which united perennial stars of the King Features syndicated comic strips –
Flash Gordon
,
the Phantom
, and
Mandrake the Magician
.
Prince Valiant
is included as well, surprisingly.
With Dale Arden stranded back on Mongo, the men enlist the magic sword of Prince Valiant to transport them back to that distant planet, accompanied by Jen Harris, Dale's assistant and supposedly, the true Phantom.
On Mongo, they discover a fellow Earthman known as Jungle Jim, who has power over the flora and fauna of the already-hostile world. They also learn that while only a few days have elapsed in their time, Valiant's sword had kept them in limbo, during which two years have passed. During this time, Dale has risen to the position of Empress of the Universe alongside Ming.
A nice touch during this sequence is the verbatim dialogue of the wedding ceremony from the 1980 Flash Gordon movie. It speaks to the respect newer writers will pay the history of the Flash Gordon franchise, including its cheesier elements. Kind of like depicting a can of shark repellant in the bat-copter, or featuring Lt. Arex in a Star Trek comic (look him up).
I really enjoyed
Kings Quest
, and I have to wonder how I didn't come to this series sooner. I love what Dynamite has done with other properties, such as
The Shadow
and the
Lone Ranger
. So why should the King Features characters be any different?
Last Updated: August 31, 2023 - 08:12