Comics / Manga / Yaoi Manga
Finder Vol. 2: Cage in the Viewfinder (Yaoi)
By Leroy Douresseaux
August 17, 2011 - 10:49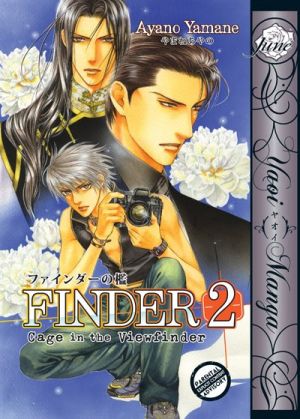 Finder Volume 2: Cage in the Viewfinder
Drama/Romance; Rated "18+ Mature"
The Finder Series is a yaoi manga series created by Ayano Yamane. It is back in print in English via Digital Manga Publishing's Juné imprint. The Finder Series revolves around three characters. There is 23-year-old freelance photographer, Akihito Takaba, who fends off the advances of a young crime lord named Ryuichi Asami. The third player is Fei Long, a rival Chinese criminal and hit man (of sorts) out for revenge.
Finder Vol. 2: Cage in the Viewfinder opens with the story, "Body Chase." Akihito gets tied up with a suspicious-acting Detective Imamiya who wants the inside information on Asami's activities. Asami, of course, is on to the shady detective and the young photographer. Before he realizes it, Akihito again finds himself in Asami's clutches and probed by his wandering hands.
In the side story, Kourou No Hana "Unobtainable," Fei Long struggles to earn the praise of the man who adopted him, the head of the Liu Family. There is, however, a struggle within the Hong Kong mafia, and Fei's older brother, Yan Tsui, pressures Fei Long to get rid of their rivals and adversaries. There is also a new threat visiting Hong Kong, Ryuichi Asami, and he is up to no good. When Fei is most vulnerable, he falls for Asami's sly charms, but is the young crime lord just playing games with Fei Long?
The stars of "Plants in Love," high school students, Ayumu Mizuno and Takahiro Hiyama, return in "DNA in Love." Both young men suspect that their fathers, who were college friends, may also be gay lovers. When Takahiro's father learns that Ayumu is sick, he insists on taking Takahiro to visit his ailing friend. Is this just an excuse for Papa Hiyama to visit Papa Mizuno? Either way, the boys will have their own hands full just dealing with one another.
Cage in the Viewfinder doesn't start off with a bang. As far as I see it, "Body Chase" is strictly for prurient interests. The story is simply contrived, because while Yamane does set up the shady detective subplot (a rather interesting one), the emphasis is always on getting Akihito and Asami in a bondage sex scene.
Kourou No Hana "Unobtainable," is much better. It's like The Godfather film and a soap opera jammed together with the sex and violence coming out on top. It is an engaging, sometimes enthralling, and even thrilling read. I hated that it came to an end. It is the best character drama that Yamane has written so far in this series.
The after-crime-story dinner treat is "DNA in Love." The idea of two young men having fathers who may be lovers is a novel idea. I don't know if this has been done before in yaoi, but I doubt that anyone has done it with this much wry humor and gentle comedy. I could read an entire graphic novel or short story collection about Hiyama and Mizuno, but I'm glad to have this short story in Finder Vol. 2: Cage in the Viewfinder.
A-
For more of me, please, visit www.negromancer.com.
Last Updated: September 6, 2021 - 08:15