Comics / Comic Reviews / More Comics
Farlaine the Goblin: Volume 1 comics review

By Leroy Douresseaux
October 13, 2015 - 21:16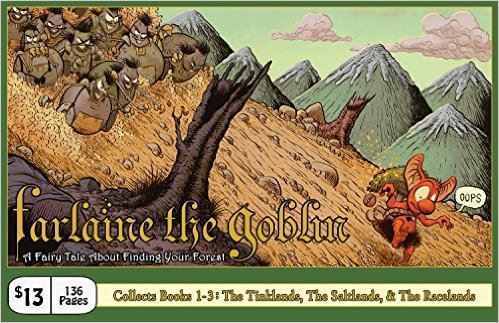 Farlaine the Goblin Volume 1 cover image
Farlaine the Goblin
is a series of graphic novels written and drawn by a cartoonist credited as "J." and sometimes as "
Anonymous
." I think his name is Jean-Francois Beaulieu (which seems obvious to me, at least). Studio Farlaine recently published
Farlaine the Goblin, Book 4
, which is available in comic book shops via Diamond Distributors.
J. sent me a review copy of
Farlaine the Goblin, Trade Paperback, Volume 1
. This paperback (landscape dimensions 11.8" x 7.75") reprints
Farlaine the Goblin: Book 1 (The Tinklands)
;
Book 2 (The Saltlands)
; and
Book 3 (The Racelands)
. It also includes bonus material, such as development art and early Farlaine comics, and a prequel adventure, "The Tinderlands."
The series focuses on
Farlaine the Goblin
. He is a tree goblin and a shaman from the forest of Fin-Din. He has spent many years wandering the many
Oddlands of Wug
in search of a forest that he can call his own. His companion is
Ehrenwort
, a tree he carries in a sack on his back; Farlaine also talks to Ehrenwort, whom he describes as his "Verdan."
As Book 1: The Tinklands begins, Farlaine only has 10 lands left in which he can search for his own forest. When he encounters a group of aggressive rotund robots, the Tinks, Farlaine finds himself on the run. In Book 2: The Saltlands, Farlaine meets people made of salt and discovers that they are so desperate for shelter that they have tricked someone into seemingly permanent indentured servitude. In Book 3: The Racelands, Farlaine may have found his forest, but he will have to race for it.
THE LOWDOWN:
Apparently, Anonymous is self-publishing his
Farlaine the Goblin
series because he could not find a publisher to take on the series. That is surprising considering all the publishers that claim to want to publish graphic novels for young readers.
Farlaine the Goblin
is an imaginative series that mixes fantasy with situation comedy. It is appropriate for young readers, but does not condescend to young readers, nor does it seek to be safe. The stories are active and action-oriented without being explicitly or aggressively violent. Don't be put off, you grown folks; Farlaine the Goblin will captivate both teen and adult readers.
Anonymous is a talented cartoonist who is quite skilled at producing black and white comics, and his color art has a quality similar to children's picture books. His stories present obstacles and dilemmas that are honest and genuine with sensible and imaginative resolutions. I expect this series to improve in terms of story and art with each volume, as the cartoonist seems like the kind of artist who is always growing.
POSSIBLE AUDIENCE:
Readers looking for all-ages fantasy filled with imaginative creatures will want
Farlaine the Goblin, Volume 1
.
facebook.com/FarlianeTheGoblin
Rating: A- /10
Last Updated: January 24, 2022 - 11:00