Comics / Comic Reviews / More Comics
Farlaine the Gobline: Book 6, The Winglands comics review
By Leroy Douresseaux
March 28, 2018 - 10:22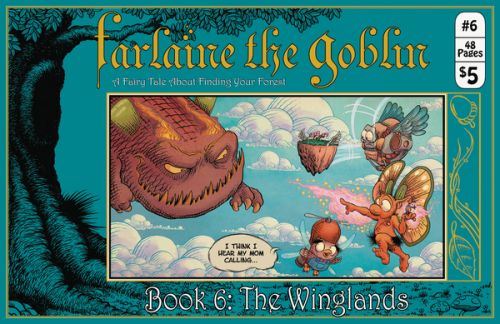 Farliane the Goblin: Book 6, The Winglands book cover image
All-Ages

Book 6" "The Winglands"
Farlaine the Goblin
is a series of fantasy graphic novels published by Studio Farlaine and written and drawn by the cartoonist who goes by the nom de plume, "
Pug Grumble
" (but was previously credited as "Anonymous"). Mr. Grumble recently provided me with a PDF review copy of the the latest Farlaine edition.
Each Farlaine comic book/graphic novel is published as a paperback (landscape dimensions 11.8" x 7.75"). The story focuses on
Farlaine the Goblin
, a tree goblin and a shaman from the forest of Fin-Din. He has spent years wandering the many
Oddlands of Wug
in search of a forest that he can call his own. Farlaine has two companions. The first is
Ehrenwort
, a tree he carries in a sack on his back; Farlaine also talks to Ehrenwort, whom he describes as his "Verdan." The second companion is a "
Tink
" from an earlier adventure in the "Tinklands." A rotund, mechanical fellow (think Star Wars' BB-8 with two wheels), he has been named
Drowsy
by Farlaine.
Farlaine the Goblin: Book 6, The Winglands
begins as Farlaine, Ehrenwort, and Drowsy leave the Vaultlands behind... in a hurry. Now, they are in the Winglands where everything has wings... or can have wings... and can lose them. To return to the land below, Farlaine and company need parachutes, but in order to get chutes, they need "barter." They can earn barter by getting jobs, so as they settle in, they are shocked by how well they fit it. Then, a recent enemy proves difficult to avoid.
THE LOWDOWN:
As I have previously written, I read Farlaine the Goblin, Trade Paperback, Volume 1, which collects the first three graphic novels in the series, and was surprised that a comic book of such high quality could not find a publisher, forcing Pug Grumble to self-publish it. After reading the sixth edition, I feel the same as I did after reading the fifth. I am surprised that Farlaine the Goblin is not a huge hit and a multiple Eisner Award and Harvey Award nominee.
I wish I could say what the best thing about Farlaine the Goblin: Book 6, The Winglands is, but I cannot. I can say what the worst thing is about it and previous volumes: damn, there is never enough. The rapturous joy of reading ends to soon, but then, I can read it again to recover that feeling.
Seriously, the truth is that there are so many "best things" about this delightful edition of a fantastic series, which is also what I said in my review of Book 5, The Vaultlands. Farlaine is a fantasy adventure in the spirit of Looney Tunes and Lewis Carroll, and Book 6 also has a classic comics feel, as if the hand of Carl Barks subtly provides signs and hints for Pug Grumble, who shares a spirit of imagination and adventure with Barks.
The Winglands is, as the other volumes are, funny, delightful, and inventive. To paraphrase what the movie Joker asked about the movie Batman, I will ask, where does Pub Grumble get all those wonderful ideas? Where is the well of whimsy in which he dips his pin? No more questions; let us simply enjoy. I highly recommend Farlaine the Goblin: Book 6, The Winglands.
I READS YOU RECOMMENDS:
Fantasy readers of every age will want to try the imaginative, all-ages Farlaine the Goblin books.
A+
10 out of 10
facebook.com/FarlianeTheGoblin
twitter.com/treegoblin
Rating: 10 /10
Last Updated: January 24, 2022 - 11:00