Comics / Comic Reviews / Marvel Comics
The Eternals #6
By Hervé St-Louis
February 9, 2007 - 23:19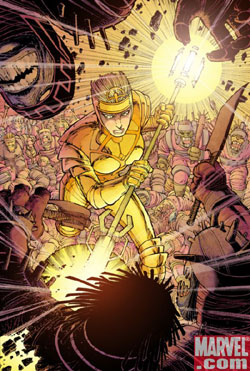 Romita Cover
The dreaming celestial is awake and ready to judge humanity, deviants and Eternals. But the Avengers are on their way and want to destroy the giant. However, the Eternals, whose mission is to stop the celestial from waking up oppose them. Which group will prevail over the other and will there be any time left to deal with the celestial after the feud?
Although the Avengers seem to not recognize the Eternals, it is not a real worry, as Gaiman has indicated that he was fully aware of continuity of this group. In fact, he revels in it with his hints about the current civil war at Marvel Comics. The discussion Makkari has with the celestial is interesting, and although no man is meant to understand it's scope, Gaiman still showcased its philosophy as best as he could. It seems that another issue will be added to this series, where possibly, the Avengers go for a rematch against the Eternals. No complaints from me.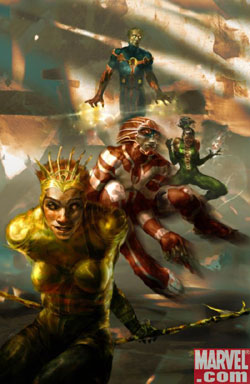 Berry Cover
The logic of making two alternate covers exasperates me. It's very difficult to get the regular Romita cover which is dynamic. Most will have to settle for the painted cover by Berry which is horrible. Apparently Marvel Comics thinks it will make readers go nuts looking for a rare variant which will make greedy comic book retailers and Ebay speculators happy. All it does is make this reader sour as he settles in for the cover he could get. There is no point hunting something like that, especially when it was designed to increase someone's wallet artificially.
Rating: 9 /10
Last Updated: October 26, 2021 - 07:38