Wolves DVD review

By Leroy Douresseaux
January 19, 2015 - 20:01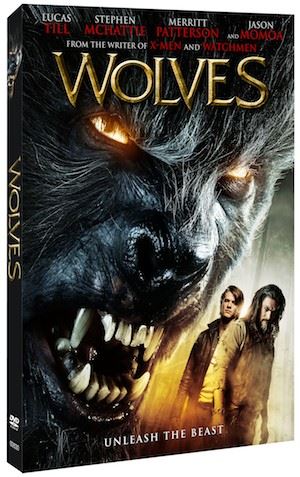 Wolves DVD box art 3D view
Follow me on
Twitter
.
Ketchup Entertainment
is releasing the 2014 fantasy drama and werewolf film,
Wolves
, on DVD, Digital HD, and On Demand on Tuesday, January 20, 2015. The film is written and directed by
David Hayter
, a noted screenwriter who has worked on such comic book movies as
X-Men
,
X2: X-Men United
, and
Watchmen
.
Wolves
' creature effects were created by Oscar-winner,
Dave Elsey
(
The Wolfman
), and
Lou Elsey
. Wolves focuses on a young man who, after becoming vicious and unpredictable, goes on the run to learn the truth about what he is and discovers a clan of "wolves."
Wolves introduces
Cayden Richards
(Lucas Till), a popular high school student and football player. His life, of late, has been complicated by horrifying nightmares and by the fact that Cayden has become unpredictable and wild. After the brutal murder of his parents, Cayden is forced to leave town, hoping to keep what he is seemingly becoming a secret.
At a bar, Cayden meets a talkative and rundown-looking fellow who goes by the name, "
Wild Joe
" (John Pyper-Ferguson). Joe points Cayden to an isolated, small town named
Lupine Ridge
, but upon arriving there, Cayden is initially not well-received by the townsfolk.
John Tollerman
(Stephen McHattie), a local farmer, gives him work and a place to stay. There, Cayden finds peace, but he is soon caught in a blood feud between rival clans of "
wolves
." To save his life and that of his new friends, Cayden will have to face the alpha male of a gang of wolves,
Connor Slaughter
(Jason Momoa), who has a shocking connection to Cayden's past.
Wolves
' writer-director, David Hayter, was one of the writers on the film, X-Men (2000). In that first
X-Men
movie, we are first introduced to the power of mutants, humans with extraordinary powers, when we witness young Rogue hurt a friend with a kiss. Later, Rogue meets Wolverine (or Logan), another mutant. It is through Wolverine that we enter the world of the X-Men, a secret band of mutants.
In Wolves, Hayter uses his lead character, Cayden, to both introduce his unique take on the werewolf and to also take the audience into the murky and secretive world of the "wolves." Hayter's "wolves" are a unique take on the legends and folktales about werewolves and other lupine shape shifters. Instead of deluging the audience with his new ideas and rules about werewolves, Hayter has us learn them as Cayden learns them, experiencing the ups-and-downs and the bumps and bruises that come with entering a new world or environment.
Wolves is not the werewolf film as an X-Men movie, nor is it
Twilight
. If anything, Wolves is closer to the oddball werewolf film,
Skinwalkers
. Classic werewolf movies,
The Wolf Man
(1941) and
An American Werewolf in London
(1981), treat their lead characters as cursed. Their werewolf affliction might be the result of fate or by a fated accident, but they are cursed and only death will end the curse.
Movies like Skinwalkers and
Wolves
treat the werewolf as part of a person's basic make-up. It is inheritance. It's in the blood, and it's a DNA thing, like being a mutant of the X-Men variety. After discovering that he is werewolf, Cayden can live by making the best of it, like John Tollerman, or become a killer and a man living like a wild animal, like Connor (who comes to life thanks to a spicy performance by actor, Jason Momoa). Cayden does not have to be "cursed."
Another thing that I would like to point out is that Wolves exemplifies the professionalism of the "technical" artists, craftsmen, and people who build the backgrounds and environments of low or small-budget films.
Wolves
looks good, from the costumes to the sets. The werewolf creature effects by Dave Elsey and Lou Elsey are impressive and come close to matching Dave Elsey's work on The Wolfman (2010), for which he and Rick Baker won an Oscar.
Wolves
is not a great movie, but, as a fan of werewolf movies, I found it to be quite enjoyable.
Wolves
actually has bite, so it should not disappear into some werewolf or horror movie ghetto where mediocre films reside.
Follow Wolves:
Facebook: https://www.facebook.com/WolvesMovie
Twitter: https://twitter.com/BewareWolves
Wolves is also available on iTunes with exclusive bonus material, beginning January 20, 2015. The iTunes release will include never-before-seen deleted scenes, as well as a humorous gag reel from the film, Pre-order or order on iTunes at http://bit.ly/HMWIT
Rating: B /10
Last Updated: February 5, 2023 - 09:06