Comics / Manga / Yaoi Manga
Three Wolves Mountain - yaoi manga review
By Leroy Douresseaux
March 2, 2013 - 09:19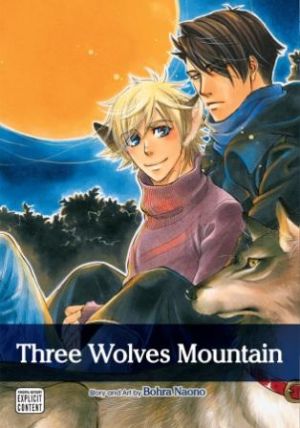 Three Wolves Mountain cover image is courtesy of barnesandnoble.com.
Rated "M" for "Mature"
Three Wolves Mountain
is a collection of interconnected yaoi manga short stories from mangaka,
Bohra Naono
. "Yaoi manga" is a subset of boy's love manga (BL) and it usually depicts romance and explicit sex between male characters. The four stories that make up
Three Wolves Mountain
center on a human and the two werewolf brothers he takes into his home.
In the opening story, "Three Wolves Mountain," we meet
Kaya Susugi
, a young man who runs a small café by day and guards a nearby haunted cemetery by night. One night, he encounters two werewolf brothers. There is the older
Tarou Tsukihara
, who is gruff and is fully in control of his powers to transform. Then, there is Tarou's cheerful and klutzy younger brother,
Jiro
. The pupils of Jiro's eyes don't match in color, and he is not fully capable of transforming. He sports a long, bushy tail and wolf ears, but is otherwise human. The Tsukihara brothers need a home, but will Kaya, a loner, give them one? And how will Kaya handle Jiro's romantic feelings for him.
In "Moonlit Forest," Jiro meets Kaya's older brother,
Kai Susugi
, a meeting which spills the secrets of the Susugi brothers' dark and troubled past. In "Baby, You Are My Home," Kaya meets
Erika and Jin Tsukihara
, the parents of Jiro and Tarou. In "Dark Matter," grave-robbing ghouls attack the cemetery, and also, Kaya takes in
Akihi
, another troubled werewolf and a distant relative of the Tsukihara's.
Three Wolves Mountain
was actually published in the U.S. last summer (specifically in June of 2012). Somehow, it disappeared down the memory hole that is a giant pile of review copies in my home. I wish I'd told you, dear readers, how good
Three Wolves Mountain
is when the book was still fresh on the market.
Loving, touching, sucking, fingering, tea-bagging, salad-tossing, and screwing: yes sirree, the explicit sex is quite present in
Three Wolves Mountain
. You'll get high value for your yaoi dollars. However,
Three Wolves Mountain
is also deeply romantic and surprisingly poignant. In a way, the sex scenes distract from the emotional engagement that the characters have with one another.
The dominant theme of
Three Wolves Mountain
is family, but creator Bohra Naono does not spend much time worrying about the differences between traditional and non-traditional families. This story depicts bonds people form when they become family by being related, uniting as a couple, living together, or connecting in profound friendship.
In this series of stories, characters actually talk to each other – as in conversation, which allows the reader to get to know them. Dare I say we can see through the window into their souls? Yes, the characters do reveal so much; they're naked and vulnerable… and not just for sex.
Three Wolves Mountain
is certainly a special yaoi manga volume. When I came to the last pages of the story, I was sad to see it end.
www.SuBLimeManga.com
Rating: 9.5 /10
Last Updated: September 6, 2021 - 08:15