Dungeon Monstres Vol. 1: The Crying Giant
By Beth Davies-Stofka
June 25, 2008 - 19:49
I've laughed out loud through every issue of the sweet and hilarious
Dungeon
series, brought from France to North American readers by NBM. Despite the charm and the razor-sharp satire,
Dungeon
doesn't have enough depth to sustain the attention of adult readers. But it's a great series to introduce to the Harry Potter set. Get kids reading it around the age of 10, get them to see the witty skewering of fantasy cliché around the age of 12, and you'll have a graphic novel reader for life.
I've passed my copies on to young readers, and I've learned a lot about how kids read sequential art. I am a boring and conventional reader, since I tend to begin at the beginning, and read straight through to the end, digesting plot as well as art in sequence. The kids I know, on the other hand, grab the proffered issue of
Dungeon
from my hand, and promptly sit down on the floor with blank paper and colored pencils. The kids "read" it by copying it, and by imitating it. Watching this, I realize that the real glory of this quirky series lies in its characters and setting. My young friends are learning cartooning – funny animals, fantastical settings, vivid colors – from Lewis Trondheim, Joann Sfar, Mazan, and Jean-Christophe Menu. Watching them, I realize that I have a lot to learn about how to read comic books.
Like the other issues in the
Dungeon
series,
Monstres Vol. 1
is about monsters and giants, queens and wizards, ducks and bunnies, strange flying beasts, and enchanted swords. There are no humans to clutter the plots with their stuffy morals. The stories are about romance, quest, and danger. Chivalric codes of honor are updated with a cheerful blending of entrepreneurs, salesmen, bureaucrats, and con artists.
The medieval and pastoral lands of the series seem populated with characters invented by a wicked progeny of Hans Christian Andersen and Ring Lardner. And what a bunch of characters they are! How about a pirate cat with no hands? John-John the Terror bears his adulterous and tentacled wife Yvette on a stick. The sword of destiny and the castle guard pedantically stick to the rules, as if only they know how much paperwork goes into a spell, or a test of strength.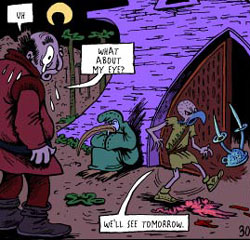 They're all looking for something, whether it is the next big con, or a legendary dungeon on a hill, or true love, or just to save their jobs when the boss gets angry. Their quests take them across marvelously-conceived and illustrated scenery, from lush green woods to hot yellow deserts to fire-orange pubs to dark purple twilights. They run, float, fly, fight, pillage and destroy their way through a long list of imaginative and wondrously detailed settings, from inns, oceans, and observatories, to docks, castles, and compost heaps. And everything seems to burst with life, from bendy castle walls to teetering piles of dishes to bristling cacti and flaming ruins. The pages happily radiate energy and vibrate with color. Every panel lives.
While rather thin for adults, yet so perfect for kids, it's a little baffling that the title story,
The Crying Giant
, would contain some pretty adult comments. While the kids I know could handle it, I'm not sure their parents could. So I won't be giving this one away. Still, this series might be the best comic book series on the market for kids, who will no doubt "read" these high spirited, happy stories in their own ways. Check out
Monstres
and the other
Dungeon
volumes at the
publisher's web site
.
Rating: 9 /10
Last Updated: September 6, 2021 - 08:15