Comics / Comic Reviews / More Comics
Driver for the Dead #3
By Leroy Douresseaux
February 2, 2011 - 12:48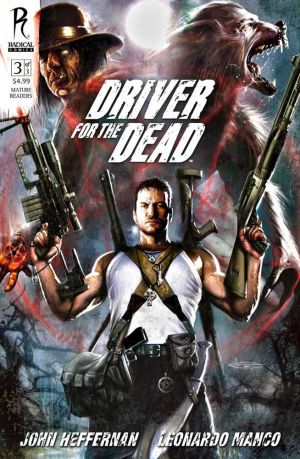 Driver for the Dead #3 cover image
Set in the heart of Louisiana, Driver for the Dead is a supernatural horror comic book miniseries from Radical Comics. Written by John Heffernan (a screenwriter on the film, Snakes on a Plane) and drawn by Leonardo Manco (Hellblazer), the series follows Alabaster Graves, the Driver for the Dead. In his custom-made hearse, Black Betty, Graves handles dangerous (like vampires) or supernaturally-involved corpses (the not-quite-dead).
In Driver for the Dead #3, Graves prepares for his final battle against the centuries-old necromancer, Uriah Fallow. The prize is the enchanted body of beloved New Orleans-based healer, Mose Freeman, and Mose's great-granddaughter, Marissa Freeman. The true natures of Graves, Fallow, and Marissa are also revealed.
THE LOWDOWN: In this last issue, Driver for the Dead delivers what its hellishly auspicious beginning promised – a damn good horror comic book story. This mix of Hellblazer's John Constantine and The Transporter's Frank Martin is a thrilling read that gives B-movie horror a thumping occult upgrade.
Writer John Heffernan's script to close out this story is darker, more violent, and certainly creepier in its occult elements. Leonardo Manco's art, with Kinsun Loh and Jerry Choo's perfect-for-horror-comics colors, transports readers from shadowy swamps to a cursed plantation and finally to sunny, magical New Orleans. Heffernan and Manco can take comfort in our discomfort; they've created ghastly magic with Driver for the Dead.
THE LOWDOWN: Readers looking for hell-raising horror comics will find that in Driver for the Dead.
A
Last Updated: September 6, 2021 - 08:15