Comics / Comic Reviews / More Comics
Driver for the Dead #1
By Leroy Douresseaux
July 26, 2010 - 12:14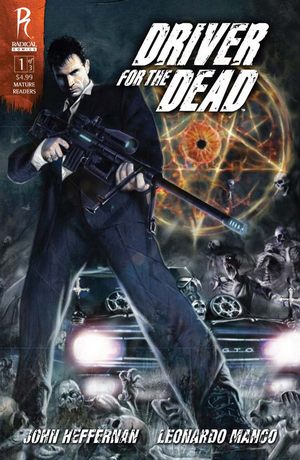 Driver for the Dead #1 cover image
So what would parents do if they had to bury a son that was destined to return as a vampire? Well, Alabaster Graves, the hearse driver for Delacroix Funeral Home and Mortuary, would transport the son's body to the graveyard. Graves is a "specialty driver." He'd know just what to do with the newly risen undead child.
Alabaster Graves is the star of Driver for the Dead, a new, supernatural horror comic book miniseries from Radical Comics. Set in the heart of Louisiana, Driver for the Dead is written by John Heffernan (screenwriter for Snakes on a Plane) and drawn by Leonardo Manco (Hellblazer).
In Driver for the Dead #1, Graves gets the assignment of driving to Shreveport to pick up the earthly remains of renowned voodoo priest, Mose Freeman. With Freeman's sexy, but mouthy granddaughter, Marissa Freeman, riding shotgun, Alabaster must return the body from Shreveport to New Orleans. What Graves doesn't know is that he is being pursued by the mysterious Uriah Fallow, for whom the corpse of Mose Freeman would be the ultimate prize.
THE LOWDOWN: It would not be inaccurate to compare Driver for the Dead to DC Comics/Vertigo's long running supernatural comic book series, Hellblazer. However, John Constantine, the star of Hellblazer, is an occult detective and mage whose adventures have a Film-Noir feel. Driver for the Dead's Alabaster Graves is a kick-ass hero in a comic book that seems like a Hollywood supernatural action movie. Think of Alabaster Graves as Jason's Statham's Frank Martin (of The Transporter film series) meets Darren McGavin's Carl Kolchak.
Writer John Heffernan has scripted a dark, violent, supernatural tale that is electric with entertainment rather than being bleak and depressing. It's funny and wild, but crazy like good horror should be. I also have to give credit to Heffernan for including black characters in the story. So often, I read stories set in places where there should be black characters, yet there are few if any.
The art by Leonardo Manco with painted colors by Kinsun Loh and Jerry Choo translates all the bizarre flavors and outlandish supernatural elements into something coherent and actually quite chilling. Manco, a veteran comic book artist, captures the nuances of the characters with a sly grace – making even the stock characters a bit more interesting than they should be.
THE LOWDOWN: Readers of Hellblazer and The Dresden Files may like Driver for the Dead.
A-
Last Updated: February 5, 2023 - 09:06