D.Gray-Man: Volume 11
By Leroy Douresseaux
November 22, 2008 - 12:18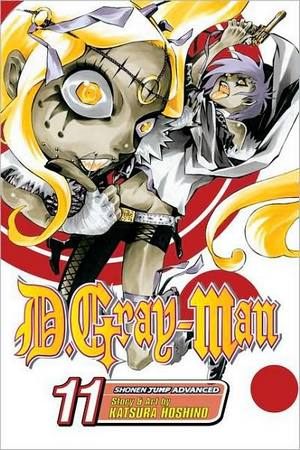 D.Gray-Man 11 cover courtesy of barnesandnoble.com.
Rated "T+" for "Older Teen"
In a fictional version of 19th century England, 15-year-old Allen Walker searches for a substance called "Innocence." He is an Exorcist and uses Innocence to fight his enemies; in fact, Innocence is the substance that bonds with his left arm to form a bladed weapon. Allen and his comrades battle the evil Millennium Earl and his minions, the "Akuma."
In D.Gray-Man, Vol. 11, Allen and his comrades are trapped in the fabled Ark of Noah, but the structure is deteriorating. Standing in the way of escape is, Jasdero & David, two young Noah with astounding powers. Although the two serve the Millennium Earl, they are targeting Allen because his master, General Cross Marian, owes them money. If Allen and company think that Jasdero & David are easy to defeat, wait until they see what happens when the two Noah combine their powers.
THE LOWDOWN: Dark and vicious, D.Gray-Man is sometimes a pungent, but tasty mishmash of elements of Batman, Blade, Dr. Strange, and the X-Men, by way of Tite Kubo's Bleach. Creator Katsura Hoshino's stylish art has a passing resemblance to Chris Bachalo's art. D.Gray-Man is highly imaginative, both in character design and action scenes, and Hoshino makes practically every page a delightful surprise of gothic style and beguiling violence.
POSSIBLE AUDIENCE: Like the best "Shonen Jump Advanced" titles, D.Gray-Man is a top flight action comic.
A-
Last Updated: January 24, 2022 - 11:00