Detective Comics #827
By Leroy Douresseaux
August 22, 2008 - 12:07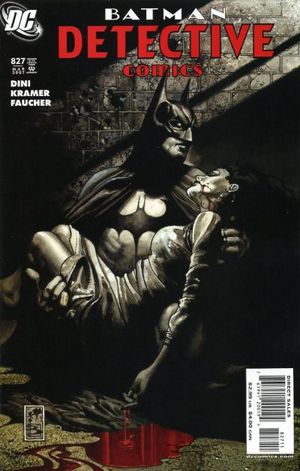 Thanks to The Grand Comics Database Project for the cover to Detective Comics 827.
Detective Comics #827 ("Double Talk") begins with Batman racing to the rescue of Catwoman. What has Selina Kyle gotten herself into this time, Batman wonders? Not so fast; the Ventriloquist is back… sort of.
I've found multiple Emmy-winning television writer, Paul Dini's ("Batman: The Animated Series") foray into writing comic books to be mostly mediocre (especially those sappy DC Comics "treasury" books he did with Alex Ross), with a few good moments sprinkled here and there. Still, Dini writes self-contained one-issue stories, something of a lost art in modern American superhero comic books, and when he's on, he's on.
This issue of Detective Comics could be considered something a of text book for writing stand-alone comic book stories. In terms of story, here, Dini is efficient in the way he presents the scenario, the lead characters and guest leads, and the setting. As a narrative, "Double Talk" is a simple detective story with Batman trying to discover the identity and schemes of a possible reconstituted adversary. Dini opens the story with a series of scenes: an action sequence, a scene with Batman and allies in crime fighting (Commissioner Gordon and Harvey Bullock), and a scene in the Batcave, which all establish who Batman is and how he works. Within the first ten pages, Dini has also presented to the readers the kind of world in which Batman operates and the setting for this story.
The effectiveness of Dini's script carries over into the visualization by penciller Don Kramer (with inks by Wayne Faucher). Kramer creates a nice mix of large, medium, and small panels, and the page design offers a nice rhythm for a crime tale, accentuating the mood of suspense. The content within the panels creates shifting levels of drama in terms of intensity. As this is a mystery tale, one that focuses on secret and lies and hidden identities, Kramer and Faucher make excellent use of shadows, while Kramer, like a cinematographer, makes our point of view active and restless, which keeps up the tension.
B+
Last Updated: March 10, 2022 - 22:00