Toys / Comics to Toys / DCDirect
Silver Age Lois Lane
By Hervé St-Louis
July 12, 2003 - 14:18
Likeness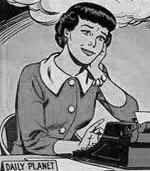 Rendering supporting characters into action figures is often more difficult because they have less defined and iconic appearances. Lois Lane has changed looks more often than Superman in the comics and elsewhere. Therefore DC Direct settled on one look based on the fashion of the 1950s and early 1960s, for their first Lois lane figure.
One thing about Lois, is that she is a brunette. Being a reporter, therefore, an independent woman, the figure sports a skirt and jacket, highlighting her working woman's status. She is no stay at home mom. Finally, to highlight her sassiness, Lois wears a small hat. The figure resembles the few pictures found on the character from the period, but I am no expert on Silver Age comics.
Sculpt
To add to her personality, Lois has this diabolical grin, as if she were uncovering the story of the century. One of her sets of hands, come with a pencil and a notepad, where she asks the eternal question. Are Superman and Clark Kent the same? I prefer this set of hands to the regular. Lois comes in a vanilla pose. That doesn't stop her from being a very sexy figure.
Paint
Except her face, the paint job on Lois is standard. Her cheeks are reddish and her hair has blue highlights. The rest of her costume is set in browns and greens without nuances. However, Lois' fingers have nail polish, and the details on her pencil and note pad are remarkable, considering their size. From the samples gathered, Lois' clothing was often green and brown in the comics.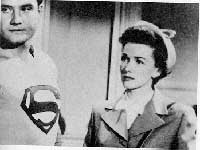 Scale
Lois is a petite woman. She is one of the shorter DC Direct figures. Of all articulated figures, capable of standing up, only the red Kid Flash and Speedy are shorter. Without her hat, Lois would be the same size as the Silver Age Robin. She is much shorter than the Silver Age Superman, the Silver Age Wonder Woman, and the Silver Age Wonder Girl the Birds of Prey Black Canary, Hawkgirl and the Huntress.
However, Lois is about the same size as the modern Supergirl, although the figures do not fit well together, unless, you picture Lois as some very old lady. In fact, I like to think of Lois as a stand in for Joan Garrick, the Golden Age Flash's wife. With a little grey in her hair, she could fit extremely well with him.
Standing Upright
Lois' high heels make it difficult for her to stand up properly. However, she does stand well on the action figure stand that comes with the set. A second peg hole would have improved her stability, when used on stands such as the Super Friends.' Lois is a very light figure. In theory that should help her stand up properly. However, her heels are not even and change shape according to the weather.
Articulation
Lois has very decent articulation, for a secondary character. Other civilian figures, from DC Direct did not fare so well. Oberon, from the Mister Miracle and Big Barda set, is mostly a prop. Billy Batson, from the first Captain Marvel two pack is almost as frozen. On the other hand, Lois comes with eleven points of articulation. Few early female DC Direct figures had t-shaped hip and knee joints. Lois is quite moveable.
Plastic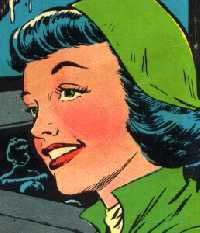 Superman contains the same thick plastic used in earlier DC Direct figures, making him heavy. When I first got him, he even had some gooey stuff under his armpits. Lois contains the same plastic as Superman, but is a very light figure. Her purse and alternate set of hands contain similar contents. Lois' skirt is cloth fabric.
Superman's capes are of thinner plastic. The chunk of Kryptonite consists of translucent plastic. The flagpole is from the same plastic as the figures. The stand consists of hollow light plastics.
Diorama
The large golden stand that comes with the set allows one to insert the flag pole in it. Superman can also hold the flag. A stand modelled after the Daily Planet would have been more appropriate than a standard patriotic flag stand. By himself, Superman would look appropriate on a patriotic stand, but with Lois, something more in context with the comic book would have been more sensible.
Superman comes with a pin that attache to his flying pose cape. The pin, and the cord tied to it allow Superman to fly. The setup is solid enough that Superman can carry Lois in his arms.
Props
Each figure comes with two sets of hands. Besides the flag pole stand, there is a chunk of green kryptonite, and a purse which fits properly on Lois. Superman comes with two hard removable capes. One is for his flying pose, the other for his standing up position.
Packaging
The figures come in a huge box with background resembling a Daily Planet newspaper and a Silver Age comic book cover. Pictures of the various configurations possible, are pictured. Each character's logo is on the box.
Cost
The cost of this set is the regular DC Direct two pack. Again, DC Direct sets are too expensive for the fans. At the time, I paid more than $60 Canadian for my set, excluding taxes. This set would probably have received more orders were it conveniently priced. I don't understand why DC Direct does not push for a greater distribution of its figures. They are usually the most accurate renditions of its characters.
Availability
Diamond quickly sold out the first release of the set in 2001. Retailers and e-Bay scalpers, began charging exorbitant prices for the set. However, DC Direct resolicited the set supposed to be limited in number about six to nine months after the first bach. Apparently, DC Direct had produced more, but did not get the number of orders it had hoped for the first time. Perhaps it's due to the figure's prices.
This set is still available for now from Diamond Distributor and several stores. If you want one, do not give in to E-bay scalpers. Just ask your regular comic store to order one for you. The set has also lost some of its uniqueness, following the announcement of the modern line of Superman characters. Many fans bought the Silver Age set, thinking it would probably be the only Superman's action figure from DC Direct.
However, since Hasbro has lost the license to the character, in favour of Mattel, everything is different. Whereas, DC Direct had to obtain a permission to produce the Silver Age Superman figure, it no longer has to. When Warner Brothers Licensing sold Mattel the license, DC Direct obtained the right to produce DC Comics characters. Mattel's license is non exclusive.
Most fans being interested in the modern Superman figure, the Silver Age one only captures the interest of a few fans. However, their numbers are fewer than the stock available. Also, I have seen few requests from fans for the Silver Age Lois Lane. Although an excellent figure, she remains an acquired taste for fans. The Silver Age Superman also suffers because of his small size, compared with recent figures.
Since Mattel is now producing six-inch Superman figures, the Silver Age version is but one of many quality interpretations of the character, instead of being the ultimate version it formally was. DC Direct will release in 2003, no fewer than four Superman action figures. With so much Superman material available, this figure has become a prize, only for a very distinct group of collectors. 1 2
Last Updated: January 24, 2022 - 11:00