Dark Horse Launches New Era of Halo Comics
By The Editor
April 27, 2013 - 14:56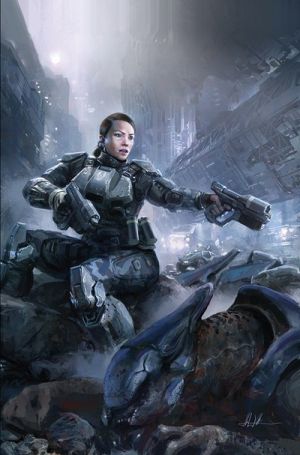 Halo: The Initiation art
A NEW ERA OF HALO® COMICS BEGINS AT DARK HORSE!
One of the most iconic video game franchises in history comes to the number-one publisher of licensed comics!
Dark Horse continues in the tradition of bringing only the biggest and best characters and story lines to comics with the announcement of the Halo: Initiation miniseries, launching in August! This exciting new miniseries will be written by Halo 4 writer and comics veteran Brian Reed, with art by Marco Castiello (Secret Invasion: Front Line, Star Wars: Purge)!
Before she was a supersoldier defending humanity as part of the Spartan-IV program, Sarah Palmer was an ODST—Orbital Drop Shock Trooper—carrying out the most dangerous missions behind enemy lines! See how she became the first Spartan-IV commander in this must-read series for fans of Halo 4 and the Halo franchise!
"A rich science fiction universe driven by compelling characters, Halo has all the makings for show-stopping comics, " said Dave Marshall, Dark Horse Editor. "In Initiation, Brian and Marco are delivering an action-packed thrill-ride with a beating heart of authentic human drama."
"It's really exciting to work with Dark Horse in continuing the Halo story in comics. After Halo 4 and Spartan Ops, fans wanted to know more about the origins of the Spartan-IV program and Sarah Palmer in particular. So it's great fun to be able to grant those wishes with a partner like Dark Horse," said writer Brian Reed.
For an exclusive look at an interior page, check out Wired.
Look for Halo: Initiation #1 on sale in comic shops everywhere on August 14!
About "Halo"
The "Halo" franchise is an award-winning collection of properties that has grown into a global entertainment phenomenon. Beginning with the original "Halo: Combat Evolved" (2001), the critically acclaimed and record-shattering series of games has since inspired multiple New York Times bestselling novels, comic books, action figures, apparel and more.
Published by Microsoft Studios, the "Halo" franchise of games is exclusive to the Xbox 360 video game and entertainment system and the Xbox LIVE online entertainment network. To date, more than 50 million copies of "Halo" games have been sold worldwide, driving more than 5 billion hours of gameplay by people connected to Xbox LIVE.
About 343 Industries
343 Industries is the publisher and developer of the blockbuster "Halo" series of videogames and, as part of Microsoft Studios, oversees the "Halo" franchise, including novels, comics, licensed collectibles, apparel and more. 343 Industries is home to world-class developers working on the Reclaimer Saga, which launched with the arrival of "Halo 4" on Nov. 6, 2012, exclusively on Xbox 360.
Last Updated: August 31, 2023 - 08:12