Comics / Manga / Yaoi Manga
Crazy Star: Junior Escort (Yaoi)
By Leroy Douresseaux
May 7, 2009 - 7:20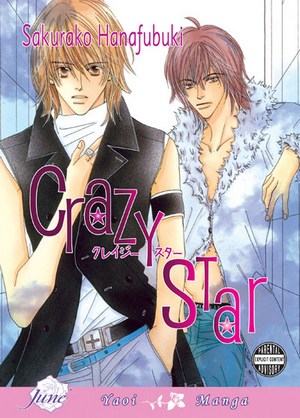 Crazy Star cover image
Rated "M" for "Mature Audiences 18+"
In the yaoi manga, Junior Escort and its follow up, Love Code, manga-ka (creator) Sakurako Hanfubuki introduced readers to Kyo Ayukawa, an up-and-coming actor/model who was apparently willing to do anything to please his employers. Kyo even assented to his boss' wishes and allowed the agency's top star, Koji Mizuhara, the hottest male model/actor/celebrity in all of Japan, to use his body for pleasure. Kyo and Koji fell in love, but Kyo ran away when he came to believe that his presence could ruin Koji's fast rising career.
Crazy Star opens three years after Love Code. Because of an accident, Kyo has lost his memories of his time as a pop idol. Performing under the name "Natsu," Kyo has returned to show business as a member of the four-man hip hop group, X-Cross. However, something strange from his past is haunting Kyo. Apparently, there is a film on VHS tape circulating throughout the showbiz industry. Entitled "Crazy Star," the movie's star is Kyo, and it features men sexually forcing themselves on him.
Kyo's X-Cross band mates: Hatsune Kurosu, Narita Yakushiji, and Fuyuki Yoshimura AKA "Pomeh" (the band's youngest member) have been trying to obtain all the copies of the tape in circulation, but every time they think they've gotten them all, another copy appears. As Kyo tries to solve the mysteries surrounding the tape and his accident, an old friend returns, but is he friend or foe?
Crazy Star is the best of the Junior Escort novels. Why? It has better characters, namely Kyo Ayukawa's three X-Cross homeboys. Both Kurosu and Narita are the kind of stand-up guys/macho (seme or "top") leads that work in yaoi manga. Even the childish Pomeh is fun as a mascot and as the younger guy-type in love with the older (and unattainable) guy, Kyo. Plus, the entire drama surrounding the Crazy Star tape, the mystery of the events surrounding its creation, and Kyo's lost memories make for an intriguing story – even better than the sex scenes. Better story, better characters, and better melodrama make Crazy Star the best of the lot.
B+

www.digitalmanga.com
Shop for Yaoi Delights.
Last Updated: Jun 26, 2018 - 9:28