Children of the Sea: Volume 5 manga review
By Leroy Douresseaux
June 19, 2013 - 17:09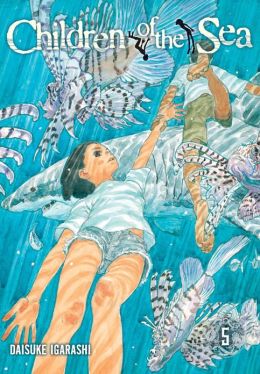 Children of the Sea Volume 5 cover image is courtesy of barnesandnoble.com.
Rated "T+" for "Older Teen"
Two-and-half years after the publication of the fourth volume, Children of the Sea Volume 5 arrives in bookstores and comic book shops. It is the final volume in the series from creator Daisuke Igarashi.
Children of the Sea focuses on Ruka Akumi, a tomboy with a quick temper, who uses her fists to settle disputes. Ruka has always felt at home at Enokura Aquarium, where her father works and where she meets and befriends Umi and his older brother, Sora. They are two mysterious boys who were raised by dugongs (a member of the manatee family) during the early years of their lives. Soon, Ruka is hearing the same strange calls from the sea that the brothers hear. This is the first of many signs that her changing life is part of a worldwide mystery centered in the planet's oceans.
As Children of the Sea, Vol. 5 (Chapter 36 to Final Chapter) opens, Ruka finds herself in an undersea cave. She hears a voice calling to her, which she soon realizes comes from the meteorite in her stomach. It is telling her about the next step in her journey. Or is she really just talking to herself? And what is Umi's part in the incredibly journey they are both about to undertake?
THE LOWDOWN: My god, it's full of stars, indeed. The Children of the Sea manga has always been part mystical and part scientifically curious, but the last volume takes science and mysticism so far that it is hard to tell them apart. Perhaps, we the readers are not supposed to differentiate.
I previously thought that Children of the Sea was a narrative that discovered a secret about science. If science is what we use to stumble about during our investigation of the miraculous and the unknown (or maybe unknowable), are we still stumbling about, discovering that there is more to discover – even as we discover. Children of the Sea suggests there are always more questions and more answers.
I think creator Daisuke Igarashi uses this way of searching to approach his reader, because he obviously wants to tell his readers a particular kind of comic book story. Dropping clues and constantly introducing ambiguity encourages and engages us. All along I think Igarashi has been saying, "Go beyond the surface, beyond what you see on this page." I was game, but this ending, which recalls Stanley Kubrick's film, 2001: A Space Odyssey, left me disappointed in how vague the resolutions are.
Still, Children of the Sea is an exceptional manga. I'm most disappointed that it has ended.
POSSIBLE AUDIENCE: Readers looking for the best in comics will still find it in the IKKI Comix/VIZ Signature title, Children of the Sea.
Rating: A /10
Last Updated: August 31, 2023 - 08:12