Comics / Manga / Yaoi Manga
Camera Camera Camera 1 (Boys' Love)
By Leroy Douresseaux
Jan 15, 2009 - 18:21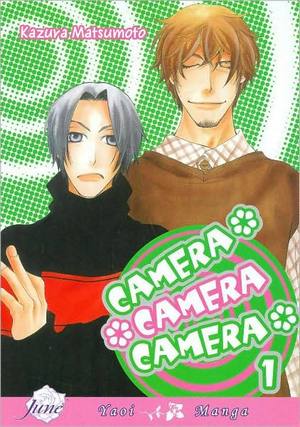 Cover art features lead character Akira Togawa (left) and photographer Kaoru Nakahara.
Rated "YA" for "Young Adults 16+"
Akira Togawa is an average high school student, with the only exceptional thing in his life being that he's in love with his older stepbrother, Satoru. If only that were the lone tricky situation in his life, but it's not.
Suddenly, there's a scruffy photographer named Kaoru Nakahara hanging around the school to work on a campus photography job. Kaoru falls head over heels in love with Akira, and he won't take even Akira's loudest "No!" for an answer. Worse still is that this persistent Akira-enthusiast is aware of Akira's hard crush on Satoru, who now has a devotee of his own. A female, Kano Miyata, arrives on the scene in Satoru's life, and she's also notices that Akira clings to his stepbrother. When a young male model with a crush on Kaoru comes forward, Akira is not just in a love triangle; he's in a love pentagon, and his feelings are all jumbled.
In the Boys' Love (BL) manga, Camera Camera Camera, Vol. 1 (from creator Kazura Matsumoto), lovers and rivals seem to appear out of nowhere. Camera is a charming frivolous treat, the kind of light-hearted romantic drama one would expect from shoujo manga (comics for teen girls), and, except for the gender of most of its cast, Camera is practically a typical high school romantic comedy/drama.
Camera is successful because (1) it's a breezy read (2) and it has such endearing characters. Young Akira is so twisted by his deep emotional attachment to his brother and by his conflicted feelings for the pervy photographer who is suddenly on the scene that Akira is his own comic foil. Unusual for BL, Camera has a strong female supporting character in Miyata. Rather than make her just a girl-in-the-way, a throwaway female character/obstacle to boys' fun, Matsumoto makes her a determined, level-headed, smart player. Miyata may be an interloper, but she's sympathetic and fun to have around.
Camera Camera Camera also effectively depicts the fierce yearnings of teen love without one sex scene, and the narrative is heavy with intriguing conflicts and complications. There is, however, lots of comedy – pratfalls, misunderstandings, and playful fisticuffs. This skillful interplay of comedy, drama, and romance is why Camera Camera Camera is a fun fun fun read.
B+
Last Updated: Jun 26, 2018 - 9:28