Natsume Ono's La Quinta Camera
By Leroy Douresseaux
July 16, 2011 - 08:39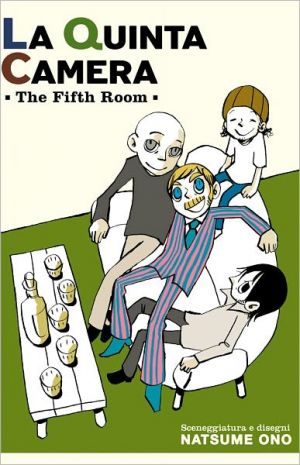 La Quinta Camera cover image
Rated "T+" for "Older Teen"
La Quinta Camera (The Fifth Room) is a stand-alone manga volume from Natsume Ono, the creator of such manga series as House of Five Leaves and Gente. La Quinta Camera takes place in an unnamed city in Italy and is set in a five-bedroom apartment.
In four of the rooms live four single middle-aged men: Massimo, a bar owner and landlord of the apartment; Luca, a street musician; Celestino or "Cele," a comic book artist; and Al, a truck driver who works and sleeps a lot. Massimo has a deal with a local language school to lease the fifth room to exchange students, who are usually only at the school for about a month and a half.
Into these four men's lives comes Charlotte, a young Danish woman who is an exchange student with nowhere else to go. She brings something new into their lives, and they change her life for the better.
THE LOWDOWN: Thus far, I've enjoyed the Natsume Ono manga that I've read, and this is the fourth that I've read that is set in Italy. Of her Italy-set stories, La Quinta Camera is my favorite. What makes it such a lovely and enjoyable read is its depiction of friendship. This is a manga about camaraderie, bonding, romance, and cozy relationships that fit like a warm sweater. Of her show, "Lidia's Italy," Lidia Bastianich says she celebrates food, family, and friends. That also describes the highly enjoyable La Quinta Camera.
POSSIBLE AUDIENCE: Fans of Natsume Ono must have La Quinta Camera (The Fifth Room), and so do readers looking for good graphic novels.
A
Last Updated: September 6, 2021 - 08:15