Building Stories graphic novel review
By Leroy Douresseaux
Oct 6, 2012 - 17:41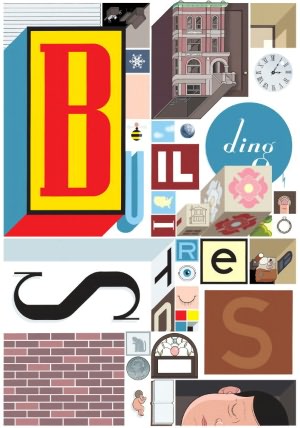 Building Stories box cover art image
Chris Ware is known for his comic book series, ACME Novelty Library, and the graphic novel, Jimmy Corrigan, the Smartest Kid on Earth. Ware has a new graphic novel, but it is unlike any other graphic novel.
Ware's latest is Building Stories. First, this graphic novel comes in a box, of which the dimensions are 16.6" in length, 11.5" in width, and 1.75" in depth. One other thing: Building Stories actually comes not as one single book, but in 14 separate books, booklets, pamphlets, tabloids, etc. Here, is some information provided by the publisher, Pantheon Books, which has appeared in one variation or another in press releases and at bookseller websites:
Everything you need to read the new graphic novel Building Stories: 14 distinctively discrete Books, Booklets, Magazines, Newspapers, and Pamphlets.
With the increasing electronic incorporeality of existence, sometimes it's reassuring—perhaps even necessary—to have something to hold on to. Thus within this colorful keepsake box the purchaser will find a fully-apportioned variety of reading material ready to address virtually any imaginable artistic or poetic taste, from the corrosive sarcasm of youth to the sickening earnestness of maturity—while discovering a protagonist wondering if she'll ever move from the rented close quarters of lonely young adulthood to the mortgaged expanse of love and marriage. Whether you're feeling alone by yourself or alone with someone else, this book is sure to sympathize with the crushing sense of life wasted, opportunities missed and creative dreams dashed which afflict the middle- and upper-class literary public (and which can return to them in somewhat damaged form during REM sleep).
A pictographic listing of all 14 items (260 pages total) appears on the back, with suggestions made as to appropriate places to set down, forget or completely lose any number of its contents within the walls of an average well-appointed home. As seen in the pages of The New Yorker, The New York Times and McSweeney's Quarterly Concern, Building Stories collects a decade's worth of work, with dozens of "never-before published" pages (i.e., those deemed too obtuse, filthy or just plain incoherent to offer to a respectable periodical).
Yes. You literally have to build this story. Although the back of the Building Stories box has a diagram with some suggestions on the order in which you may read items, I don't know if it matters. I jumbled the order several different times, only partially reading the contents of a particular item before moving onto another and later coming back to finish the one I started.
Building Stories is set primarily in Chicago and follows several characters. The central character is an unnamed, college-educated, middle-class artist, wife, and mother. Although much of the narrative is set in the present, Building Stories examines and shows glimpses of her life going back to the 1970s. She has a husband, Phil, and a daughter, Lucy. Building Stories also depicts Lucy's life as an adult, although sometimes, I was not sure if particular sequences were not about Lucy, but about her mother. That is the problem with the way Building Stories is presented to the reader. Because the narrative is divided across so many individual containers, discerning who and when can be a challenge to the reader.
I've admired Chris Ware's work for about two decades. From the perspective of graphic design, there are few American comic book artists who can match his talent and skills. He's daring with format and narrative structure, and back when they were first publishing ACME Novelty Library, Fantagraphics Books was probably the only publisher with the vision and nerve to publish the series as Ware wished.
I think Building Stories is one of a prime example of how certain comic book creators are able to present modern fiction as probing and as observant of contemporary topics, dilemmas, and people as prose writers. I cannot get enough of these characters, their situations, or the setting. I'm grateful that Pantheon Books sent me the actual boxed set. I thought that only the big boys in book review periodicals and websites would get copies of Building Stories for review. If this had been published by Drawn & Quarterly, I wouldn't have even gotten a single pamphlet.
Still, I'd prefer to read this as an ordinary graphic novel; that's old-fashioned me. However, readers looking for comics that are both good and daring have to have this – even if it means shoplifting. This is an exceptional art comics and alt-comix package. Building Stories is more proof that Chris Ware is at the top and that there aren't many comics creators sharing that space with him.
Rating: 8.5 /10
Last Updated: Dec 19, 2017 - 22:52