Tales of The Green Hornet
By Philip Schweier
Sep 14, 2011 - 8:24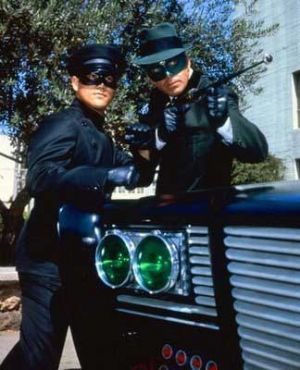 Bruce Lee and Van Williams as Kato and the Green Hornet

Following the release of this year's Green Hornet film starring Seth Rogen, I grew curious about the television series form the 1960s. I had watched it as a small child but remembered very little about it. Fortunately, all 26 episodes are available via YouTube and I recently finished watching them.

The series was produced by Greenways Productions, sharing the narrating duties of executive producer William Dozier with its sister series Batman. However, there the similarities of the two productions ended. Where Batman was very campy, the Green Hornet was played straight. It starred Van Williams as Britt Reid, the publisher of the Daily Sentinel. But at night, he becomes the Green Hornet, whom the public believes to be a dangerous criminal. This enables the Green Hornet to fight crime from the inside out, often setting up other racketeers, presumably in a bid to take over their criminal enterprises.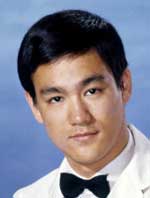 Bruce Lee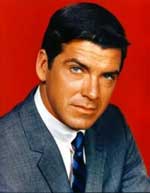 Van Williams

Williams is very likeable in the lead role, playing a convincing hero, wearing the mask or not. He's young, handsome and supremely confident. Like his literary forebear, the Lone Ranger (both were originally created by radio scribe Fran Striker), he seems to view his partnership with his aide Kato in equal terms.

Kato is played by Bruce Lee, and it is often said he was the best thing about the series. However, after watching all the episodes, Lee is given little to do in terms of acting, usually relegated to his role as Reid's valet. But as a crime fighter, Kato comes alive, delivering powerhouse karate chops to bad guys left and right. Kung fu movies aside, if you want a better representation of Bruce Lee's abilities, I recommend you watch his scenes in Marlowe (1969), starring James Garner in an adaptation of the Raymond Chandler novel Little Sister. Lee died tragically from cerebral edema at the age of 32.

Rounding out the cast was a number of supporting characters. Wende Wagner played Lenore Case, Reid's secretary. Even though she knows his dual identity, they seem to share an extremely professional relationship, never addressing one another on a first name basis. District Attorney Frank P. Scanlon, portrayed by Walter Brooke, also knows Reid's secret, which is helpful. As D.A., he tends to takes things at face value a little too often. Methinks those heavy black glasses of his have pinched his brain a little.

Lloyd Gough is featured as Mike Axford, a police reporter for the Daily Sentinel. In the original radio show and subsequent serials of the 1940s, Axford is presented as an Irishman, complete with brogue. While Gough may have fiery red hair and speak in somewhat Irish tones, there's no trace of an accent here.

In an update from its radio show roots, the Daily Sentinel also operates DSTV, a local television station which seems to consist of a single broadcasting studio and an unnamed newscaster voiced by Gary Owens.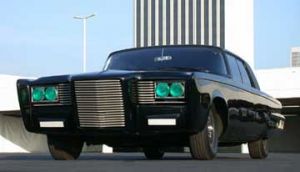 The Black Beauty, a customized Chrysler Crown Imperial

In keeping with a more modern approach, the Black Beauty is a customized Chrysler Crown Imperial armed with rockets and a small flying video/audio surveillance device. The Green Hornet is armed with his traditional gas gun, as well as a telescoping cane referred to as the Hornet's Sting. Using ultrasonic waves, the device is handy for blasting open locked doors and the like.

The series attracted a handful of recognizable guest stars, such as Victor Jory, John Carradine, Harold Gould and Mako, who is featured in the episode, the Preying Mantis, as Kato goes toe-to-toe with members of a Chinatown tong. Other memorable episodes include Hornet, Save Thyself, in which Britt Reid is accused of murder; and Bad Bet on a 459-Silent. And of course, there's the obligatory "evil twin" episode(s), Corpse of the Year, parts 1 and 2. Another two-part episode, Invasion From Outer Space, is also memorable for all the wrong reasons. While the aliens in question turn out to be terrorists in disguise, seeing bad guys running around in silver lameé space suits makes it one of the sillier outings on the series

It is never made clear as to in which city the Green Hornet operates. One episode, The Hornet and the Firefly, features Police Commissioner Dolan, suggesting the city may be Central City, stomping grounds of Will Eisner's Spirit. We know that it isn't Gotham City. Not only does the different police commissioner make it clear, a second-season episode of Batman featured Williams and Lee in their roles as the Green Hornet and Kato visiting Gotham City to foil a counterfeiting ring. Williams and Lee were also featured in one of their sister program's many "window cameos" as the Hornet and Kato. However, in the episode Ace in the Hole, racketeers are shown watching Batman on TV.

The Green Hornet lasted only one season on ABC. It may be the quality of the prints from which the YouTube episodes were taken, or maybe YouTube itself, but I found the day-for-night filming technique hard to watch. Rather than film the series at night, the production staff chose to film in broad daylight, then process the film in such a way that the captured image is darker, conveying the nighttime atmosphere. As a result, the dark clothing worn by so many of the characters gets lost against the background.

A Gold Key comic book series ran for three issues. In 1989, NOW Comics launched a series which revealed that the Green Hornet is an identity passed down from generation to generation, beginning with the original in the 1930s and '40s, then his nephew in the 1960s and leading to a third Hornet in the 1990s. Comprising two separate series, 54 issues were published until 1995 when NOW Comics folded. A third series, Tales of the Green Hornet, ran for nine issues, the initial two-issue story arc featured the Green Hornet of the 1960s and was written by Van Williams, star of the TV series.

Today, Williams is the only surviving member of the Green Hornet cast. He is retired from acting, his last role being a cameo in the 1993 Bruce Lee biopic, Dragon: The Bruce Lee Story. He played the director of the Green Hornet TV series.

Praise and adulation? Scorn and ridicule? E-mail me at philip@comicbookbin.com

Last Updated: Jun 26, 2018 - 9:28