DC Universe Photo Op at Dragon-Con
By Philip Schweier
September 10, 2010 - 13:57
On Sunday, Sept. 5, more than 200 Dragon*Con attendees dressed as characters from the DC Comics Universe participated in a mass photo opportunity. Gathering on a deck behind the downtown Atlanta Hilton Hotel, fans and photographers alike enjoyed a gathering of comic book characters not seen since, well, the day before when they held the Marvel shoot.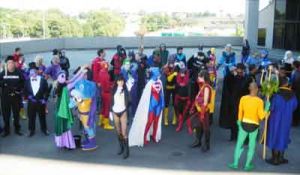 Heroes begin to gather
Common characters such as Superman and Batman (and even a Krypto) were joined by more obscure ones such as Bwana Beast and Gleek, the monkey of Zan and Jayna, the Wonder Twins. Fans were directed in the photo shoot, spreading some redundant characters out among others. A second series of photographs were shot depicting the villains of the DC Universe triumphant over the (seemingly) dead heroes.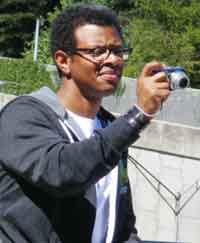 Even actor Phil LaMarr (Justice League) got into the spirit.
Lasting for more than 90 minutes, coordinating the shoot proved challenging, given the number of participants, including one Bizarro who seemed to have a difficult time following the directions of the photography staff.
"He's just too much in character," quipped one observer.
Perhaps the most significant comment on the activity came from long-time DC Comics artist George Perez. "You guys ROCK!" he told the gathered group, before joining them front and center in some of the photos. Shortly afterward, the group paid tribute to Perez by recreating the cover to
Crisis on the Infinite Earths
#7, which featured the death of Supergirl.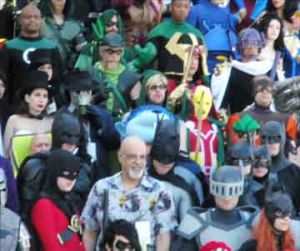 George Perez, front and center
"I'm very proud of the work I've done on these characters," Perez later said. "I'm proud that it inspires so many people to put so much time and effort into their costumes, and that in turn inspires me. I go home to my drawing board reinvigorated.
*For more superb Dragon*Con photos, visit Dr. Doug's awesome gallery.
Last Updated: September 6, 2021 - 08:15