The Costumes of Dragon*Con
By Philip Schweier
Sep 23, 2009 - 7:08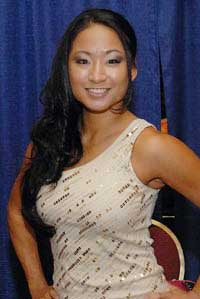 Gail Kim
Costumes are seen at every comic book convention, large or small. Sometimes the costumes have the look of something purchased online, while just as often, they are homemade, with varying degrees of professional skill.
What is perhaps unique about Dragon*Con is the sheer volume of inventive costumes seen throughout the four-day convention. Attendees begin assembling Thursday evening to receive their badges, and often, while standing in line, one will see a Mario Brother or Dark Phoenix or Princess Leia slave girl.
"I love Dragon*Con," said TNA wrestling star Gail Kim, one of the 2008 celebrity guests. "I do lots of conventions and people dress up at some of them, but this is like a big Halloween party. It's so fun."
At virtually every con function, from panels to the dealers' room to the Walk of Fame, one can find creative versions of popular characters. Some are humorous variations, such as the Elvis stormtrooper or the girly Jar-Jar BInks stormtrooper. Others are old characters with a new spin.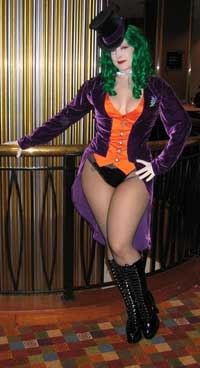 Traci Baker as "lady Joker"
"A friend of mine mentioned that she was getting together a group of girls to do Batman villains," costumer Traci Baker says on her website, crimsonvision.net. "We were going to be doing male villains but turning them into women characters! Well, for years a friend of mine had been talking about how cool it would be for someone to do a female version of the Joker. And so my costume was born."
Baker has been creating her own costumes since 1995, when she became involved with the Boston Rocky Horror cast. "No one was really making the 'screen accurate' costumes that I wanted so I started making them myself," she explains. Within a few years she began taking commissions, and started branching out into other genres of costumes when she attended her first Dragon*Con in 1999.
Baker says she usually takes two to three costumes per day of a convention, as well as alternates. "I plan my costume schedule out pretty specifically; when and where I'll be wearing what. I usually am in costume all the time at a convention but sometimes I will take a break from them and bum around in comfy clothes."
Such a large volume of clothing to transport can make traveling a challenge, but Baker seems to have the logistics worked out. "I usually try and mail off the bulky or really heavy items to a trusted friend nearby the convention before I fly out," she explains. "I have several huge suitcases that I use and often get charged the extra fee for the overweight bags. I usually end up hand carrying delicate props as well onto the plane myself."
Despite such care and effort, it is inevitable that a costume may succumb the wear and tear of large crowds, traffic and congested dealers' rooms. "It's really hard and definitely something you need to plan ahead for," she admits. "I wore my Mina gown one evening at Dragon*Con when the crowds are at their worst. That wasn't smart at all and the long train was constantly getting stepped on. I will never wear a trained outfit in the evening again.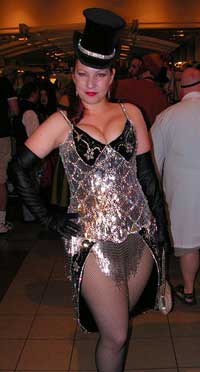 Traci Baker's Black Diamonds costume from the film, Moulin Rouge
Baker's favorite costume that she is most proud of is her Black Diamonds from the movie
Moulin Rouge
. "I've made it over a few times and tried to improve on it as much as I could. It's at a point now where I think I am done with it."
She usually attends two or three conventions a year, and is also very active with SCA group in Texas, participating in medieval/Renaissance costume events as well.
Though maintaining her day job, Baker has turned her costuming into a personal business, creating costumes by commission. "I like to do movie costumes or items where people have a definite idea of what they want something to look like." According to her website, turn-around time is at least 16 weeks, depending on variables such as fabric, the availability of materials and complexity of the costume, all of which also affect the final cost. She has been called upon to recreate film costumes for conventions, weddings and corporate spokescharacters.
A representative for Swiss Miss contacted Baker, asking how fast a turnaround she could give them on a costume. It was needed for a segment of
The Today Show
regarding a winter carnival and the company wanted to have someone dressed up as the Swiss Miss to hand out chocolate. "I had a week to get measurements, materials, do the work and get the ensemble to the client," said Baker. "Thankfully I got it done, they loved it, it fit perfectly and I got to see my work on TV! It was great!"
Praise and adulation? Scorn and ridicule? E-mail me at philip@comicbookbin.com.
Last Updated: Jun 26, 2018 - 9:28