May the Schwartz Be with You
By Philip Schweier
September 15, 2005 - 08:30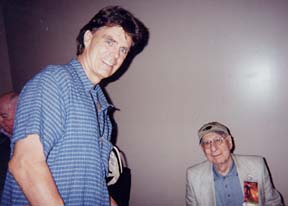 Julie Schwartz shares a moment with former TV Captain Marvel Jackson Bostwick at a recent Dragon-Con in Atlanta
I missed Dragon-Con this year. Held over Labor Day weekend in Atlanta, the convention has become an annual event to which my wife and I look forward. Two things kept us from going. One is that my wife, being in the medical field, was on call.
The other is that last year wasn't entirely satisfying. Maybe it was our first year without our usual group of friends; maybe our expectations for the con were unrealistic. Regardless, the 2004 event seemed to be missing something.
Maybe it was because it was the first year without Julie Schwartz, for whom Dragon-Con's annual award is named. The Julie is bestowed upon those who have not only excelled in one area of science fiction or fantasy, but who have stretched themselves to recognition in other arenas. Past honorees included Harlan Ellison, Alice Cooper, and Jim Steranko.
Nobody told better stories than Julie Schwartz, but he'd be the first one to say, "I'm not a writer." Nevertheless, after joining the comics industry in 1944, he had his hand in just about everything DC Comics ever did. "Even Wonder Woman," he told an Atlanta audience in 2003. "It's hard for me to do a Wonder Woman book, but I did that."
After announcing the topic of the panel, Super Teams and Team Ups, writer Judd Winick invited his co-panelists, Geoff Johns and Schwartz, to introduce themselves. The veteran comics editor began by recounting how he saved one of DC most enduring characters. "At one point Wonder Woman was failing, and DC was desperate so they came to me, the savior of DC Comics, and said, 'Can you do anything to save Wonder Woman?' I said, 'Well, I don't like Wonder Woman, I can't stand Wonder Woman, but if you want me to do it I'll take a crack at it. Whaddaya want me to do?' They said, 'Save Wonder Woman.'"
Schwartz, who was editor of
Justice League of America
, realized Wonder Woman had not appeared in that title in quite a while. He latched onto an idea suited to her mythological roots, by turning each adventure into a challenge reminiscent of the 12 labors of Hercules. The Amazon felt the need to prove herself worthy of membership, with other members of the JLA assessing her.
"So I did two years on
Wonder Woman
– I don't know how many issues that was, if it was bi-monthly or not – in which every story in which she had an adventure, a member of the Justice League would be trailing her to see how well she was doing. So you'd have a cover with Wonder Woman, plus Superman, plus Flash, or whoever the case may be. As you can see at the end of the run, they had a meeting of the Justice League, they all agreed that she did a superb job. That's how I 'sort of' saved Wonder Woman."
The audience burst into applause. As it died down, Schwartz said, "I'm surprised I didn't hear any boos back there."
Giving the laughter a chance to subside, Winick offered, in second-banana fashion, "Do ya want any?"
This allowed Schwartz the opportunity to segue into another tale. "I know a fella who said at that point, 'I don't mind the boos as long as I get paid for it.' This fella, who I met in 1973, I went to his house. He was a great admirer of mine, and during the course of the conversation I hear something about payment, and he said, 'I don't take a piss without getting paid for it.' And that fella's name was Harlan Ellison."
Again, laughter rippled through the captivated crowd. Once it had passed, Julie drops the other shoe. "It still holds, by the way."
Schwartz began his career at All-American Comics, which later became part of DC, on the original Green Lantern title. " (It was) written by a fella who later became a science fiction writer, who I consider probably the BEST of science fiction writer, one of the best." Schwartz, who had discovered Ray Bradbury, was referring to the late Alfred Bester. "He got involved with comics because I was his literary agent, and I was selling his science fiction stories. But there weren't enough markets to keep him going so he appealed to Mort Weisinger who discovered him, if he should write comics."
Weisinger referred Bester, who knew nothing about writing for comics, to Bill Finger for training. "He's the one who really created Batman," Schwartz said of Finger. "When I say created, I mean from a story point of view. He also came up with the gimmick of how to draw Batman. He suggested that through the mask, the eyes don't show. So he's very ingenious."
However, despite his creative reputation, Finger had one failing: he was always late. "He never delivered a story on time," claimed Schwartz.
One of Schwartz's first moves when taking over Batman in the 1960s was to kill Alfred the butler, a major supporting character. "But before I let Bill Finger write the story, I said, 'I have a note here.' It said, 'I, Bill Finger, promise to deliver the story on time, or...' I can't remember what it was. But he did deliver the story on time. Alfred the butler was killed off, and I brought in Aunt Harriet, the aunt of Dick Grayson."
However, it was soon after this that Bill Dozier, a producer at 20th Century Fox, optioned the property for television. "So the first script came in, and there was no Alfred the butler in this. He (Dozier) said, 'Where's Alfred the butler?' and he was told they killed him off. Suddenly they're saying they want him back again. So I had to figure out a way to bring him back, and I did it. I used a gimmick I stole from H.P. Lovecraft in a story called
The Outsider.
"
After the first year, the Batman show began to fail, so producers asked DC Comics to introduce a female character. "That was my assignment," said Schwartz. "So I came up with the idea of Batgirl. And Carmine Infantino did a great cover, and I can't recall who wrote the story, perhaps Gardner Fox.
"I could go on and on, but why should I? I've written this all down in my memoirs,
Man of Two Worlds
." According to Schwartz, his biography recounts everything that happened from the day he met young Mort Weisinger, who would later become editor of
Superman
for 30 years before Schwartz took over. "We not only saved the science fiction industry," he asserts, "We saved comics too. And the fella who acknowledges that sent me, on my 85th birthday, 'To Julie Schwartz, the other living legend in comics. Signed, Stan Lee.' "
Following his official retirement in 1987, Schwartz made appearances at comic conventions all over America as DC's goodwill ambassador, charming fans and autographing his collection of memoirs.
"I'm all sold out of my books, but you can probably still can get it at amazon.com. Come back next year, bring the book, and I'll autograph it for you," he promised. Sadly, it was not a promise he was able to keep. In January of 2004, Julius Schwartz passed away after a short illness.
Cutting his sales pitch short, Julie turned to his co-panelists in all seriousness and said, "Now, what's the subject of the panel, by the way?"
The entire room roared with laughter. Not at an old man's folly, but at the charm of a legendary figure who loved comics probably more than anybody there.
Praise and adulation? Scorn and ridicule? Email me at philip@comicbookbin.com.
Last Updated: September 6, 2021 - 08:15