Bob McLeod Talks Rough Stuff
By Leroy Douresseaux
May 21, 2007 - 13:14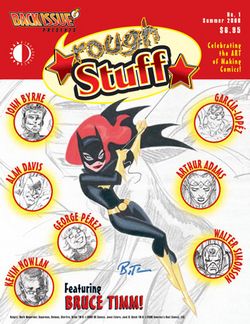 Rough Stuff #1
Many comic book readers remember Bob McLeod for his long and distinguished career as an inker for Marvel throughout the 1970's and 1980's and later for DC Comic in the 1990's. He also provided pencils for many books, lettered others, and sometimes provided both pencils and inks for an individual issue, here and there. Bob was also a co-creator of the New Mutants with Chris Claremont and Louise Simonson.
In recent years, he's largely withdrawn from comics, focusing on teaching (currently at the Pennsylvania College of Art & Design), drawing commissioned works, and working on occasional issues of The Phantom (for the European market). He recently nudged his way into the children's book market with the delightfully playful SuperHero ABC (from HarperCollins).
Another project is his editorship of the magazine, Rough Stuff, published by TwoMorrows. Bob has graciously answered a few questions for us about the magazine:
CBB: What is the editorial objective of Rough Stuff?
MCLEOD: Like all of the TwoMorrows magazines, it's basically just a celebration of comic art. We're trying to show people the creative process involved in producing a page of comic art by showing all the various preliminary stages the public would not otherwise see, along with comments from the artists themselves so you can get a real sense of what they were trying to do, and how well they pulled it off. Beyond that, I'm trying to help beginners get to a more professional level by offering a constructive critique of a sample page every issue.
CBB: How did Rough Stuff come about? Did you approach TwoMorrows or did they go to you?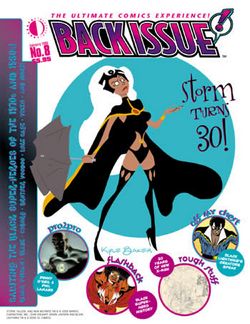 The Back Issue that began it for Bob
MCLEOD: Rough Stuff used to be a regular feature in Back Issue magazine, just showing pencil art. I read that they were looking for images to run in it, so I sent them three boxes of photocopies from various jobs I had inked, and then on a whim I wrote an article for them about inking 'rough' pencillers. Evidently my article got a huge response from their readers, and they were already looking to spin Rough Stuff into it's own magazine, so they asked me to edit it.
I was very reluctant at first, because it sounded like a lot of work for little pay, and I had really been distancing myself from the comic book industry for the last few years. But in the end, I decided it was an interesting challenge, since I had never written much or edited anything before, so I decided to give it a try.
CBB: What does Rough Stuff offer professionals that choose to participate? How have they received the magazine as you've approached them about participating?
MCLEOD: It's really just free publicity for the artists we feature, and in fact we pay them for publishing their art. I'm not critiquing their art, except maybe to say what I like about it, and it offers them a forum to speak their minds if they choose. Some artists like Brian Apthorp, Matt Wagner, and Steve Bissette have really opened up and offered a very interesting glimpse into their heads. Most of the artists are of course eager to be featured, but several of them are very busy and have really pushed the deadline getting their comments and art to me. We started out obtaining images from various collectors, but almost every artist I contacted preferred that I print their newer art instead, so now most of the art I publish is sent in by the artists themselves.
CBB: What does the reader get out of an issue of Rough Stuff?
MCLEOD: It's primarily a visual magazine, but I'm trying to offer readers a lot of text as well, so we feature at least one interview every issue, an article about some subject or other (I've written two articles myself) and of course the artists' comments about their art. My critiques of sample pages have been well received by our readers, too. In future issues, I'm trying to add even more reading material. There's also a Rough Stuff section on my web site where I post art and comments that we didn't have room for in the magazine, so readers should always check that out.
CBB: What can we expect from the current issue, and can you give us some info on things to come in future issues?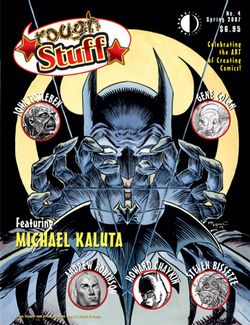 The recent issue featuring both a Mike Kaluta cover and an article on the artist.
MCLEOD: I'm really happy with the current issue, #4. Michael Kaluta provides a Batman cover, and inside the magazine, there is a feature article on Kaluta. We have a terrific interview with John Totleben illustrated with some amazing art, and features on Steve Bissette, Howard Chaykin, the great Gene Colan, and Andrew Robinson. There's also an illustrated article about the recent Wonder Woman Day art auction, and a special free 6-page preview of Write Now #15.
We've got some very interesting articles coming up in future issues, such as Michael Browning's article about John Albano creating Jonah Hex in issue #5, Mike Gagnon's article on independent comic artists in #6, and an in-depth look at European comic artists by Belgian art collector Dominique Leonard. Some issues this year will also have two interviews rather than one. I'd like the magazine to keep evolving and not be too predictable. Issue #9 will be a very special issue, which the fans should really appreciate. It'll be a slight change of format and you won't want to miss it, but that's all I'll say about it for now.
CBB: What work can we expect from you in the near future outside of Rough Stuff?
MCLEOD: With the success of my alphabet book, SuperHero ABC, I've written some more children's books that I'm hoping to get published, and I still do a large number of commissions of all sorts. You can always see my latest art and projects on my web site, www.bobmcleod.com.
When you visit Bob's website, he has a special section devoted to material that couldn't be included in Rough Stuff: www.bobmcleod.com/roughstuff.htm. His alphabet book, SuperHero ABC, meant to be an aid to help children learn to read, is available in bookstores or online at (for example) Amazon.com and Barnes & Noble. The book has received highly favorable reviews from Publisher's Weekly and the School Library Journal, among others.
Like all of their titles, Rough Stuff can be bought directly from the publishers at www.twomorrows.com
Last Updated: September 6, 2021 - 08:15