ComicBookBin App Support Update

By Hervé St-Louis
December 22, 2014 - 12:09
I thought that I should probably update the status of the various
ComicBookBin apps
as one of them will no longer be available for download soon.
Hewlett Packard has announced that they would pull the plug on Palm's webOS synergy support early in January 2015. Services like Synergy will stop updating webOS devices like the Palm Pre and the Touchpad. Users will be left on their own. I created many apps for webOS. Last year I pulled the plug on the
TED app
because of some server misconfiguration but the webOS ComicBookBin apps still work.
I'm not sure if the calendar integration from the ComicBookBin webOS app will be affected without the Synergy services, but everything else should work. If you still use a webOS device the app will continue to work for you. Unlike our TED app, there is no need to pull the plug on the webOS app for now. It uses the same resources from the other ComicBookBin apps for iOS and Android. The iOS app did get pulled from the Apple App Store when I stopped renewing my developer's account in 2013. That was mostly Apple's fault as I will explain below.
The webOS app store is probably dead. I haven't checked in it years. Please do continue to use ComicBookBin on your webOS device! I suppose that the only ComicBookBin app still working is the Android one. It's a bit ironic for me as it is the app that never got an update and was the most problematic to develop. The webOS app was the best of all the ComicBookBin apps. The iOS one was the first smartphone app I ever developed so I really care about it too. But developing the Android was marred with problem from day one. I worked with three different developers to get it off the ground. It was hell. It's the one app I'm the least proud of but it's the only one that is still available to ComicBookBin fans on Google's Playstore.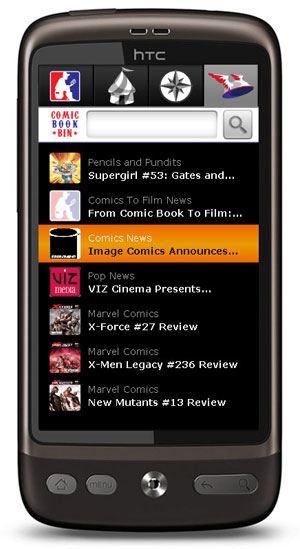 At ComicBookBin, we were early developers of comic book-related apps. I'm proud of that achievement. However, since 2012, I haven't been able to update any of the apps we developed for Android, iOS and webOS. The apps were always free. Financing their development is difficult when you're a fulltime graduate student. I fully intend to go back to developing apps for ComicBookBin in the future. I always intended to include a comic reader in the apps. It was the number one demand of users. Although ComicBookBin is a news site, people always expected to read comics off our apps. Today, there are actual Web comics on ComicBookBin. You can read
Leroy Douresseau's

Grumble
and my own
Johnny Bullet

comic strip
. So of course there will be updates to our apps and I'll eventually reinstate the iOS app.
I stop renewing my developer's account with Apple, preferring to let the app die. Apple's developer support was bad. They had removed access to Austria and Germany from the beginning because one of the comics from DC Comics –
Justice Society of America #36
had a Swastika. We had to remove the offending cover from the app when the Apple reviewers were verifying it. It's really stupid as the cover happened to be in recently published articles. Germany and Austria have strict laws about the display of swastikas and related Nazi symbols and speech. I understand this and think it is a sensible decision. However, even after removing the offending cover and pleading with the brain-dead Apple app reviewers that ComicBookBin was not harbouring hate crime and promoting Nazism, the ComicBookBin app for iOS was still unavailable for Germany and Austria. I tried countless times to get them to drop the ban. I chose not to renew my Apple developer's account since it was nearly impossible to get them to overturn the ban in Germany and Austria. I went into several escalations. They clearly understood the issue – so they say and of course knew that I wasn't promoting Nazism. But Apple is now a bureaucracy.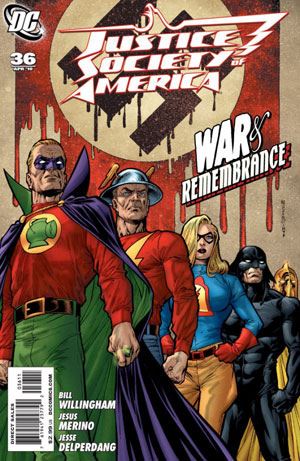 Since I wasn't able to renew the apps anyway, I just decided to pull the plug on the app for now. Apple is really a dumb company sometimes. I wonder how DC comics still manages to have comic book covers with swastikas. At least, I understand why Marvel is using the HYDRA logo front and center and downplays severely the Nazi connection. If you make comics and don't want trouble from Apple, don't put a swastika on your cover even if it's clear that it's a bunch of super heroes fighting evil Nazi villains.
The ComicBookBin apps were the first comic book-related apps with fully working store locators that worked throughout the world. I tested them in various places such as Europe, all of North America and Asia. It was able to find comic book stores everywhere. It had more stores than the official Diamond Previews app that requires comic book stores owners to pay a fee in order to be listed. Our apps list comic book stores in places like Beijing, even today. Of course I'll update these apps in the future.
Last Updated: September 6, 2021 - 08:15