Bleach: Volume 29
By Leroy Douresseaux
November 21, 2009 - 19:35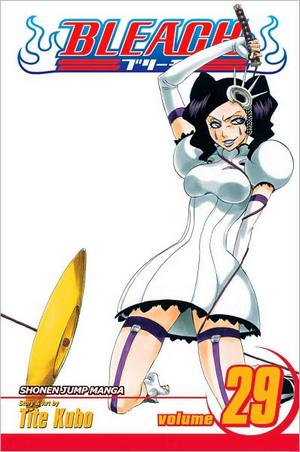 Bleach Volume 29 cover image is courtesy of barnesandnoble.com.
Rated "T" for "Teen"
Ichigo "Strawberry" Kurosaki was born with the ability to see ghosts, and because of this ability, Ichigo met a young woman named Rukia Kuchiki. Rukia changed Ichigo's life forever when she introduced him to the world of the Soul Reapers. Now, Ichigo is also Reaper, protecting the innocent, cleansing malevolent lost souls, called Hollows, and helping these tortured souls find peace.
Bleach, Vol. 29 (entitled The Slashing Opera) finds Ichigo, Rukia, Uryû Ishida, Chad Yasutora, and Renji Abarai in the midst of their mission into Hueco Mundo, the other-dimensional headquarters of the Arrancars. They are there to rescue Ichigo's friend, Orihime Inoue, a healer, from the clutches of the renegade Soul Reaper, Sôsuke Aizen.
In a series of one-on-one duels, their Arrancar adversaries push Ichigo, Uryû, and Chad to the limits of their powers and abilities. Chad's battle with Gantenbainne Mosqueda (Arrancar #107) brings out something powerful and terrifying in Chad.
THE LOWDOWN: The big comic book event series that DC Comics and Marvel Comics have published over the last quarter-century, from Secret Wars to Blackest Night, are fondly remembered, in part, for the massive epic battles depicted in these series, especially battles at the climax of the narratives. Just about every volume of Bleach offers an epic battle, but without the cheesiness and desperation to be cool found in many Marvel and DC event comics. Bleach is cool.
POSSIBLE AUDIENCE: A premiere "Shonen Jump" manga, Bleach will appease the craving for violent entertainment.
A
Last Updated: August 31, 2023 - 08:12