Comics / Comic Reviews / Marvel Comics
Black Panther #166 Legacy comics review
By Leroy Douresseaux
November 6, 2017 - 12:41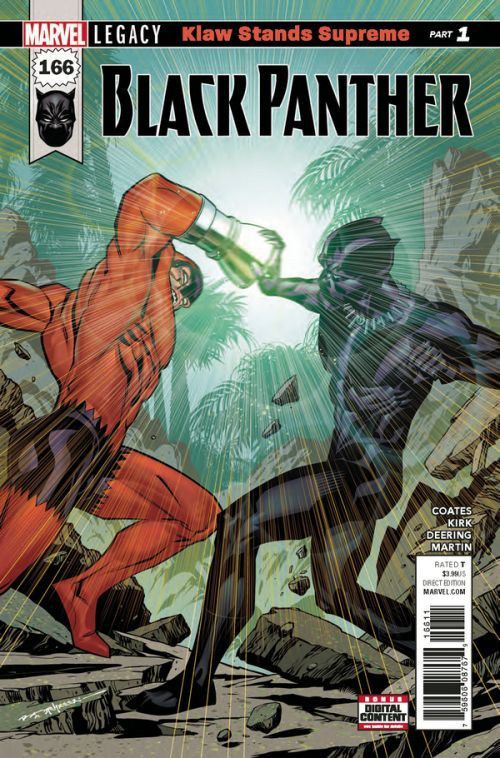 Black Panther #166 cover image
"Avengers of the New World" Part 7
Black Panther
is a Marvel Comics superhero. He was created by Stan Lee and Jack Kirby and first appeared in
Fantastic Four
#52 (cover dated: July 1966). Black Panther was
T'Challa
, the king and protector of the (fictional) African nation of Wakanda. Black Panther was also the first Black superhero is mainstream American comic books.
Ta-Nehisi Coates
is an American writer and journalist. This African-American commentator is also a national correspondent for The Atlantic, where he writes about cultural, political, and social issues, particularly as they regard to Black people in America. Coates' second book,
Between the World and Me
(released in July 2015), won the 2015 National Book Award for Nonfiction. In 2015, he was the recipient of a "Genius Grant" from the John D. and Catherine T. MacArthur Foundation.
Black Panther and Ta-Nehisi Coates (with artist and designer Brian Stelfreeze) came together last year in a relaunch of the Black Panther comic book series. Marvel Comics is in the middle of a new publishing initiative, "Legacy," and that changes the issue numbering for Black Panther (and for a number of Marvel Comics' titles). Coates now produces Black Panther with artists
Leonard Kirk
(pencils and inks) and
Marc Deering
(inks); colorist
Laura Martin
; and letterer
Joe Sabino
.
Black Panther

#166
is the seventh chapter of the "Avengers of the New World" story arc. The gods of Wakanda, "the
Orisha
," have gone missing. In their absence, mystical portals have been opening and releasing deadly creatures, monsters, and mutants. A figure known as
Ras the Exhorter
tells the people of Wakanda that the Orisha are dead and leads them to believe in a new god, "
Sefako
." As Black Panther leads his allies to rescue Asira, an old friend, an old enemy steps forward to claim the prize he has sought since the time when T'Challa's father,
T'Chaka
was both the king and the Black Panther.
THE LOWDOWN:
In his legendary 1980s run on DC Comics' Swamp Thing, Alan Moore created a personality for the title character and built a world of supporting characters, bit players, and an intriguing fictional mythology that allowed Moore to explore Swamp Thing's character and motivations. The result was once-in-a-generation comic book storytelling. Luckily, Alan Moore influenced generations of comic book writers who came after him.
Taking what the Black Panther writers and artists created before him, Ta-Nehisi Coates is building, issue by issue, a world of the Black Panther that is part of, but is also separate and distinct from the rest of the "Marvel Universe." Coates is doing what Alan Moore did with Swamp Thing – create a fictional comic book world that is wealthy with possibilities and does not really need the main universe. As evident in Black Panther #166, Coates is still in the building process. There is always some new element or page of Wakanda's history that comes to the fore. For various reasons, some obvious, the American comic book world has not caught on to Black Panther the way it did Alan Moore's Swamp Thing. And it should.
Coates collaborators have been stellar since the beginning of this series. New series artist Leonard Kirk's art makes for quiet but powerful graphical storytelling – explosive in scenes when Klaw unleashes his power and powerfully dramatic when the story delves into the past. As usual, colorist Laura Martin knows how to color every panel and every sequence in a way that propels the drama of the story. Joe Sabino's matter-of-fact lettering does not call attention to itself, but, as it recedes into the background, it pulls you down, down, down into this exciting story.
I can't wait for the next issue.
I READS YOU RECOMMENDS:
Fans of Black Panther and admirers of the work of Alan Moore and Brian Michael Bendis will want to read Legacy
Black Panther
.
[This comic book includes a three-page character overview written by Robbie Thompson; drawn by Wilfredo Torres; colored by Dan Brown; and lettered by Joe Sabino.]
A
Rating: 9.5 /10
Last Updated: August 31, 2023 - 08:12