Comics / Comic Reviews / DC Comics
Black Lightning: Cold Dead Hands #1 comics review

By Leroy Douresseaux
December 18, 2017 - 13:32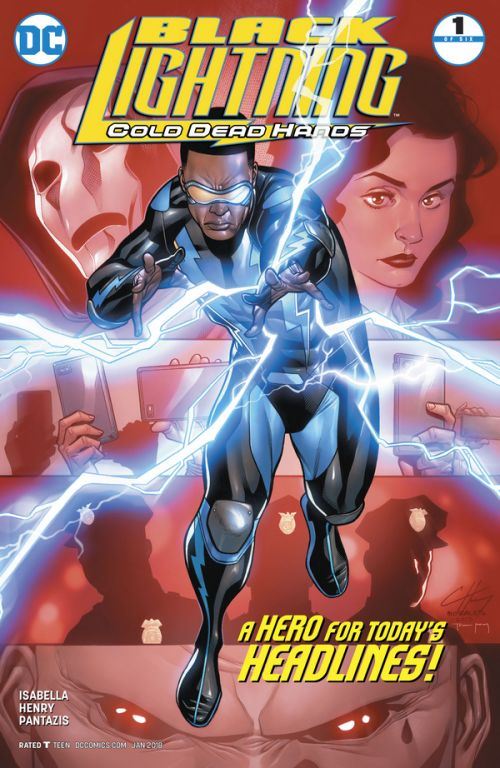 Black Lightning: Cold Dead Hands #1 cover image
Rated "T" for "Teen"

Black Lightning created by Tony Isabella and Trevor Von Eeden

Cold Dead Hands Part One: "Ready to Do It All Over"
Black Lightning
is a DC Comics superhero. Also known by his civilian identity,
Jefferson Pierce
, the character was one of the first major African American superheroes to appear in DC Comics. Pierce debuted in
Black Lightning
#1 (cover dated: April 1977), and was created by writer
Tony Isabella
and artist Trevor Von Eeden.
Black Lightning returns in a new six-issue miniseries, entitled
Black Lighting: Cold Dead Hands
. It is written by Tony Isabella; drawn by
Clayton Henry
; colored by
Pete Pantazis
; and lettered by
Josh Reed
.
Black Lightning: Cold Dead Hands

#1
("Ready to Do It All Over") finds Jefferson Pierce back in
Cleveland
, already having to play superhero. On the plus side, Pierce has been learning to maximize his electricity-based powers, and in his first battle back, Black Lightning takes down members of "
The Weathermen
," street thieves in the possession of advanced weaponry.
His success is tempered, however, by the state of affairs in Cleveland. The local police do not want what they see as superhero interference, and some of them may be willing to shoot Black Lightning to make their point. Also, Black Lightning's take down of "The Weathermen" has earned him the ire of a very powerful and very bad man.
THE LOWDOWN:
First, Black Lightning: Cold Dead Hands #1 looks dazzling from the art, graphics, and design perspective. Clayton Henry's art features strong composition and dynamic layout and design. Pete Pantazis posts layers of color that are luscious like flowing cake frosting. The color effects on the energy blasts from weapons, the arcs of Black Lightning's electricity, and the gold of Lightning's goggles are radiant.
Josh Reed's lettering is quite effecting; at least to me, it seems that the word balloons were placed for maximum effect. Reed's work never intrudes; instead, he creates a rhythm that builds a sense of rising tension and also suggests that Black Lightning is in an increasingly precarious position.
Isabella's story is also quite good. He should write more comic books. I like the way that he creates a sense of tension around Black Lightning, which gives the story edge and latent hostility. Remember, 12-year-old Tamir Rice, shot to death by a Cleveland police officer, was described as "menacing," by those who made disingenuous arguments in support of his killing? That is basically what Black Lightning faces; he is a superhero in a place inclined to think of him as a menace. We, the readers (at least, some of us) do not think of him as a menace. Isabella creates a scenario in which many distrust Black Lightning, to one extent or another, so as the narrative precedes, the hero finds himself under a spreading malaise.
Isabella increases the obstacles against his hero and that makes a compelling story that will, in turn, make readers want to come back for more. I want to come back for more.
I READS YOU RECOMMENDS:
Fans of Black Lightning will want to read
Black Lightning: Cold Dead Hands
.
A
Rating: 9 /10
Last Updated: September 6, 2021 - 08:15