Comics / Comic Reviews / More Comics
Ben 10: Omnivese Volume 2 - Joyrides comics review
By Leroy Douresseaux
Jan 7, 2014 - 13:45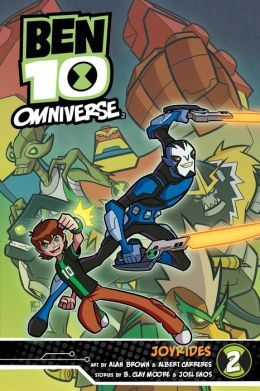 Ben 10: Omniverse Volume 2 - Joyrides cover image
Rated "A" for "All Ages"
In December of 2005, the pilot episode of a new animated series, Ben 10, aired on Cartoon Network. It introduced viewers to Benjamin Kirby "Ben" Tennyson, a typical 10-year-old boy. Ben's life changes when he finds a mysterious, watch-like, alien device called the Omnimatrix (Omnitrix for short). It becomes permanently attached to Ben's wrist, but allows him to transform into 10 alien life forms or species. Ben uses the device to become a superhero, fighting both alien and criminal menaces.
Ben's adventures are chronicled in the Cartoon Network animated series: Ben 10 (2005-08), Ben 10: Alien Force (2008-10), and Ben 10: Ultimate Alien (2010-12). A fourth series, "Ben 10: Omniverse," debuted in 2012. Starting in Fall 2013, VIZ Media began producing a brand new series of original graphic novels inspired by Ben 10: Omniverse.
Ben 10: Omniverse finds Ben Tennyson as a solo superhero with a brand new Omnitrix that allows him to change into different kinds of aliens. However, Maxwell "Max" Tennyson, Ben's very own Grandpa Max, is not ready to allow his grandson to go solo. He assigns Ben a new partner, Rook, who is one of the Plumbers (an intergalactic policing/counter-terrorist/black-ops organization). Rook is highly skilled with his Proto-Tool, but lacks any field experience, in general and especially on Earth.
Ben 10: Omniverse Volume 2 – Joyrides is a 64-page full-color graphic novel that offers two original Ben 10: Omniverse stories. In "Tim 10," Ben is shocked to learn that the aliens generated by his Omnitrix are raising hell around Undertown. But Ben doesn't remembering doing any of it or even changing into the aliens. He is running out of time to discover the truth and save his reputation.
In "Down in the Dumps," Ben is teaching a class of Plumber recruits at a Plumber Academy. He regales them with tales of his superhero derring-do, but they aren't impressed. He decides to show them how much fun being a hero can be and ends up putting them all in danger.
THE LOWDOWN: If you don't like "Ben 10" cartoons, will you like VIZ Media's Ben 10: Omniverse original graphic novels? I don't know, as I've barely watched "Ben 10" anything in the eight years of the franchise's existence. But I like this comic book. Why?
The writers of the two stories herein, B. Clay Moore and Joel Enos, don't treat Ben Tennyson as if he were a goody-two-shoes or a saint. He's a kid. Sure, he's a superhero, but he's a kid. For all his experience as superhero, he is still so young that he's bound to make mistakes, or be an immature kid, sometimes. Moore and Enos offer stories in which Ben's position and decisions imperil him in some fashion. Each story is a minefield of obstacles for Ben to overcome. I found myself enjoying the stories and wondering how Ben would get out of each mess.
The artists and colorists of these stories show the kind of fidelity to the animation of Ben 10 that would make even the most devoted spouse envious. I did find a few moments in "Down in the Dumps" to be confusing in the storytelling, but not enough to hurt the story. I want more Ben 10: Omniverse, and I might even try the cartoon again.
POSSIBLE AUDIENCE: Fans of "Ben 10" will want the Ben 10: Omniverse graphic novels.
Rating: A- /10
Last Updated: Jun 26, 2018 - 9:28