Ben 10 Alien Force: Ben 10 Returns
By Leroy Douresseaux
Jan 7, 2009 - 11:20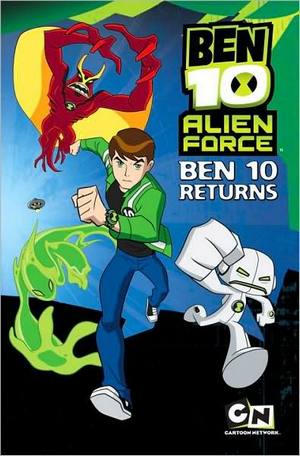 Ben 10 Returns cover image is courtesy of barnesandnoble.com.
Del Rey Manga and Cartoon Network Enterprises entered into a publishing partnership, and the latest book to emerge from that deal is Ben 10 Alien Force: Ben 10 Returns. Ben 10 and its successor, Ben 10: Alien Force, are animated television series that have been staples on the Cartoon Network since 2005. Ben 10 Alien Force: Ben 10 Returns is a film-comic book, in which the art is actually created by incorporating full-color stills from animated film (in this cast, Ben 10: Alien Force) into a comic book format.
When the pilot episode of Ben 10 aired on Cartoon Network back in December 2005, it introduced viewers to Benjamin "Ben" Tennyson, a typical 10-year-old boy, whose life was about to change. He found a mysterious, watch-like device called the Omnitrix. It became permanently attached to Ben's wrist, but allowed him to transform into a variety of alien life forms. Ben uses the device to become a superhero and fights both alien and criminal menaces, with the assistance of his cousin, Gwendolyn "Gwen" Tennyson, and Maxwell "Max" Tennyson AKA his Grandpa Max. At the end of the "Ben 10" series (in April 2008), Ben resumed his life as a normal teen.
That same month, the follow up series, Ben 10: Alien Force debuted. It is set 5 years after the events of the original series. Del Rey Manga's film-comic, Ben 10 Alien Force: Ben 10 Returns adapts the first two episodes of Season One of Alien Force – "Ben 10 Returns: Part 1" and Ben 10 Returns: Part 2." Now a confident 15-year-old, Ben is still living a normal life and no longer wears the Omnitrix.
When Ben discovers that Grandpa Max is missing, he seeks help from Gwen, but the cousins' reunion is interrupted by an alien colleague of their grandfather's, Magister Laprin. Laprin alerts them to an alien conspiracy that forces Ben and Gwen back into action, where they encounter new aliens and once again meet Ben's rival, Kevin Levin.
THE LOWDOWN: I've never watched more than a few minutes of any Ben 10 episode, for no particular reason. Strangely, however, I'm a fan of the Ben 10 comics that have appeared in DC Comics' wonderful anthology, Cartoon Network Action Pack, which offers comic book adaptation of popular Cartoon Network series. Ben 10 Alien Force: Ben 10 Returns is just like those comics, except that it's a film-comic version of two Ben 10: Alien Force episodes.
The adaptation – transforming the TV episodes into a comic book – by Elizabeth Hurchalla is sharp and crisp, which makes for a quick read that focuses on action and plot rather than character. Readers who are familiar with the television series already know Ben Tennyson, anyway. If not, all that new readers need to know – who the good and bad guys are – Hurchalla's straightforward script provides. The art, pulled from Ben 10: Alien Force, is good quite simply because the design work on the Ben 10 TV series has been so good.
POSSIBLE AUDIENCE: No doubt Ben 10 Alien Force: Ben 10 Returns is a perfect comic book for young fans of the show, whether they've ever read a comic book or not.
B+
Read more of me at www.negromancer.com.
Last Updated: Dec 19, 2017 - 22:52