The Curious Case of Benjamin Button
By Nathan Schwartz
February 2, 2009 - 15:00
Starring: Brad Pitt, Cate Blanchett, Taraji P. Henson, Julia Ormond, Jason Flemyng, Elias Koteas, Tilda Swinton, Elle Fanning
Director: David Fincher
Writer: Eric Roth
Producers: Ceân Chaffin, Kathleen Kennedy, Frank Marshall
Genre: Drama, Fantasy, Mystery
Rating: MPAA – PG-13 for brief was violence, sexual content, language and smoking
Distributor: Paramount Pictures and Warner Bros.

The Curious Case Of Benjamin Button
is a film based on a classic what-if question, of what would happen if someone started life at an old age and died as a baby? It came rather close to being exactly what I expected which, in this case, is a good thing. It would have bothered me if they stretched the concept to an utter impossibility. Even though it was fictitious, it tried to be as realistic as possible. I say tried because, in reality, the story would probably not have played out the way it did. It wasn't predictable per se, rather, it did not do anything extreme. Meaning that it was funny but not hilarious, dramatic but not overly so, and cute but not quixotic. What really blew me away though, were the make-up and the acting. On the other side, this movie does contain an assortment of flaws. Aside from these goofs however, the movie was quite enjoyable.
The story follows Benjamin Button (Pitt), a medical mystery. Benjamin was born old and aged in reverse. Since there is no term for this process that I could find, I will make up my own term, grobing. He was born to Thomas Button (Flemyng), who upon seeing his bizarre, deformed offspring, takes the baby and places it on some random doorstep. Queenie (Henson), a caretaker at an old age home, finds the child and raises it as her own. As the child grobes, he is confronted by some of the usual obstacles such as falling in love and trying to fit in. As well, his quest takes him on somewhat less conventional expeditions, such as being a sailor and traveling the world.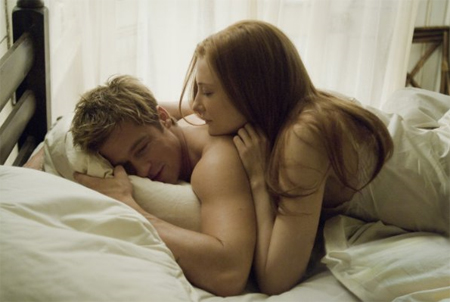 The acting was great; there is not one actor I can complain about. Brad Pitt, the film's grobing protagonist, played each step of his life rather well. As he grew younger, his attitude followed, from being old and childlike to young and wise. Cate Blanchett, the normal aging love interest, was absolutely incredible. The way she reacted to Benjamin at each step was very realistic. I could dedicate a few words to each actor, but suffice it so say that each artiste performed particularly well.
What should be mentioned though was the incredible use of make-up. At each step of Benjamin's life the make-up was so spectacular that I could have believed that Pitt was really those ages. Even when he was old it looked very realistic, despite the fact that you could tell that it was somewhat computer animated. Yet what got me the most was seeing him in his early twenties. It was so realistic that my jaw dropped in awe at the power of make-up.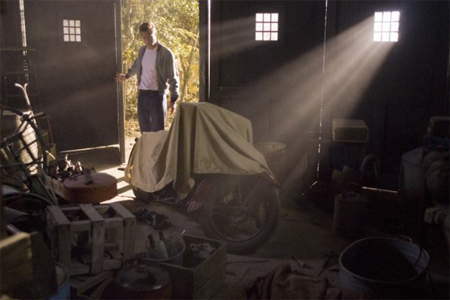 Sadly, I did notice a small number of imperfections. First, I had a few issues with the logic behind the concept. However, it is rather pointless to question the logic, for it is a work of fantasy and fiction. The flaws, which I will discuss though, have to do with how the movie played out. First off, as stated in the opening paragraph, the story probably should not have progressed the way it did. I would think that someone in the same circumstances as Benjamin would be in and out of hospitals and medical tests his whole life. Rather, it was never really looked at as a medical mystery; instead, it was looked upon just like any other odd imperfection. People might have tilted their heads at first, but then they accepted him and treated him as a normal person. For all I know this could be the response if this actually happened, but it just seems unlikely. As well, the aging process seemed rather disproportionate. It appeared as though Benjamin was grobing faster than Daisy was aging. As in, when Benjamin would grobe ten years, Daisy looked like she aged maybe five years. Perhaps she kept herself looking more youthful, but still, it was rather odd.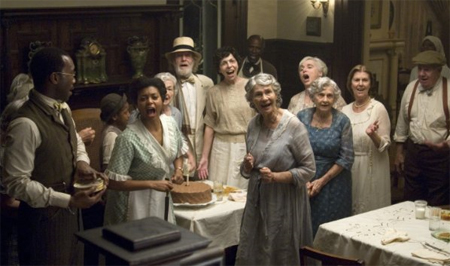 The Curious Case Of Benjamin Button was roughly three hours long, and I barely noticed it. It was enjoyable and entertaining enough to keep me engrossed in the story and the conclusion. Although it probably could have been better, I feel that if they put too much into it, it might have turned out unrealistic and silly. Thus, keeping it somewhat moderate was a smart choice.
Rating: 8 /10
Last Updated: September 6, 2021 - 08:15