Arata: The Legend: Volume 11 manga review
By Leroy Douresseaux
September 15, 2012 - 15:38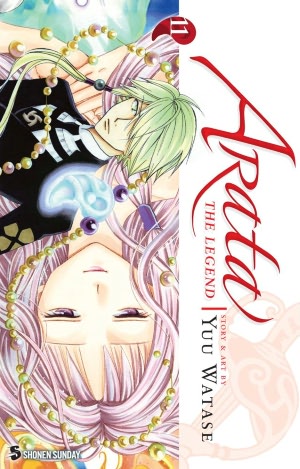 Arata The Legend Volume 11 cover image is courtesy of barnesandnoble.com.
Rated "T" for "Teen"
There is a world called Amawakuni where humans and gods coexist. Bullied high school freshman, Arata Hinohara, switches place with an Amawakuni boy who is also named Arata. Hinohara is chosen to wield a Hayagami (a god in sword form) named Tsukuyo so that he can save Princess Kikuri. Arata lives on Earth, while Arata Hinohara goes on a life-changing journey.
As Arata: The Legend, Vol. 11 begins, Hinohara and his companions are trapped deep in the Melting Pot of Souls. Hinohara sees into the memories of Yakata, one of the Twelve Shinsho. Realizing that Hinohara is seeing his memories, Yakata reveals why he hates Princess Kikuri so much and why he wants to kill her.
Back on Earth, the Harunawa of Amawakuni plots to kill Hinohara's sister, Nao. Can Arata of Amawakuni save her? During the fight, surprising revelations are made and contemplated concerning Imina Oribe.
THE LOWDOWN: The Arata: The Legend manga is not a straight shonen manga (comics for teen boys), as there are elements of shojo romance (comics for teen girls) in the series. Both the shonen action and shojo character drama appear in this 11th volume of the series, and when that happens, I find myself so drawn into the narrative that before I know it, I've come to the end of the book. Arata: The Legend has pretty art from Yuu Watase (and staff), a large cast, and thick mythology, but when the drama and characters are in action, the series is quite good.
POSSIBLE AUDIENCE: Fans of creator Yuu Watase will want Arata: The Legend.
Rating: B+ /10
Last Updated: January 24, 2022 - 11:00