Arata: The Legend Volume 5
By Leroy Douresseaux
Mar 6, 2011 - 10:12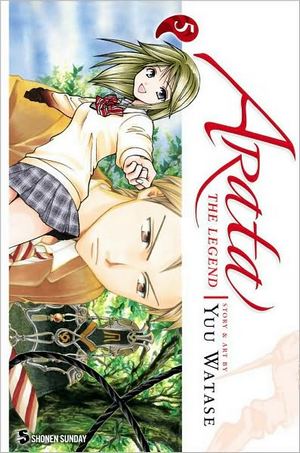 Arata: The Legend Volume 5 cover image
Rated "T" for "Teen"
In the world of Amawakuni, humans and gods coexist. High school freshman Arata Hinohara switches place with an Amawakuni boy also named Arata. Hinohara is chosen to wield a Hayagami (a god in sword form) named Tsukuyo so that he can save Princess Kikuri. Arata lives on Earth, while Arata Hinohara goes on a life-changing journey.
In Arata: The Legend, Vol. 5, both Aratas have their true identities uncovered by the young women close to them. Meanwhile, powerful forces conspire to end Princess Kikuri's life so that they can seize control of Amawakuni. Back on Earth, Masato Kadowaki, the boy who has bullied Hinohara since they were both in middle school, turns violent and gets a chance to get back at Hinohara.
THE LOWDOWN: There is actually a lot of internal mythology and terminology to learn when trying to understand Arata: The Legend – to say nothing of the large cast on two different worlds. Figuring all this stuff out is, however, worth it. An epic fantasy blended with teen drama, Arata is a lovely read told through some gorgeous art that is the perfect graphic style for a fantasy comic book. Creator Yuu Watase has a way of engaging the reader and making him or her want to know more about the fantastic world of Arata. I can't wait for the next volume.
POSSIBLE AUDIENCE: Readers looking for epic fantasy in comic book form will want to try Arata: The Legend.
A-
Last Updated: Jun 26, 2018 - 9:28