Masterpiece Optimus Prime
By Heli88
January 23, 2004 - 13:13
As far as scale, I've only got one Alternator, Smokescreen, to compare him to, but he seems pretty good in vehicle mode. A quick comparison of the 4-door sedan I drive to various trucks I passed on the highway lately shows that my car is just a little shorter lengthwise, which is true here. Smokescreen is about an inch less long than Op. Maybe 1 1/2 or 2 inches shorter, too, which also seems right. In robot mode, Prime TOWERS over Smokescreen, but that seems pretty much appropriate to the show, where Prime was one tall drink of water. He measures out at about 12", whereas Smokescreen, at about 7" comes up to the top of Prime's leg.
Features/Actions: From the top down! Prime's mouthpiece moves thanks to a hidden button in the back of his head, duplicating the motion from the cartoon series. A button on his shoulder lights up the Matrix of Leadership concealed in his chest (it's removable, and I'll talk about it in accessories) with a REALLY bright blue light. The Matrix chamber opens in a pretty good approximation of the movie, too, with three panels over the Matrix. Both forearms have flip-up communicator screens, one with Starscream and one with Bumblebee (both are stills from the cartoon), and putting weight on his feet opens lowered panels on his shins for no reason other than it looks cool. And, again, in truck mode, he's got the full suspension, though most of the other gimmicks are taken out of the picture.
Articulation: Prime's got a ball joint neck, universal joint shoulders (which also move horizontally backward as part of his transformation), bicep twists, elbows (90 degrees of motion), wrists that twist and move inward (but not outward that I can tell), ball jointed thumbs and straight hinged fingers (at only the main knuckle), a waist swivel, universal joint hips, upper thigh twist (I'm pretty sure, but I don't have him with me to confirm), knees (180 degrees, all the way flat to the thighs), ball jointed ankles, and a toe hinge, like ML. Really impressive articulation, and he holds poses well despite the weight of die-cast in him thanks to well-placed ratcheting joints. Oh, and his smokestacks are spring hinged to move outward and make room for his bicep twists, which is a really nice thought on the part of the designers. His waist piece is made of hinged flaps, so that it doesn't interfere with his hip motion, as well. The folks who designed this guy wanted to make sure you could use all of the poseability they gave him.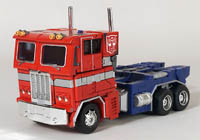 Paint: Very nice. A little overspray on a couple of areas, but overall, very clean and well done. The Autobot symbol on his shoulder is particularly clean and cool-looking. The colors are all bright and vibrant, and contribute to his looking like the cartoon model of Prime we grew up with. Nice, glossy red and blue as appropriate, and the parts molded in color are all solid, with the sliver in his hips and upper legs having a slightly shiny look, but not chromy, just metally. (English degree at work.)
Accessories: Well, he's got to have the Matrix, so he does. It lights up beautifully in his chest, and can be removed and opened, just like in the movie. Shiny chrome plastic surrounds a clear blue piece in the middle. (It stays together when opened, because the blue bit has little projections off either side.) The box has a great pic of Prime opening the Matrix, with it centered over its holder, and lit from behind by his chest light. I haven't tried that yet, but it's just such a cool concept.
Prime's also sporting his big 'ol rifle, in grey and silver. The rifle looks just like it should, and even has a green bead in the barrel backed by silver foil, so it looks like it's charging energy to fire when the light hits it. Very cool. He holds the rifle just fine. In addition to the rifle, there's that energy axe that people love, despite it only being used once that I know of. Pull in his hand and it snaps right on. It's got a "wrist" swivel, and it's molded from a rubbery clear orange plastic, to simulate energy construction. A nice accessory.
And, as we all know, he's got Megatron. Yep, Megs in gun mode is a beautiful piece. He wants to be a World's Smallest TF in a bad way. The stock has one hinge joint, so it can move down and get out of the way, and he's got nicely printed Decepticon symbols on both sides of the main gun body. All the bits that come off the real Megatron do here, too, so the extended barrel, scope, and stock can all slide off for just a teeny little Mega-gun. Teeny little Mega-gun's barrel is black, but that's the only thing that stands out as not quite right for me. He fits in Prime's hand by an ingenious joint in his grip, which extends and thins the gun's handle. Hard to describe, but it works really well.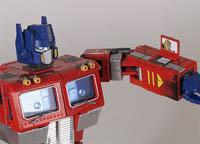 And, lastly, and also a part of the packaging, he comes with a cardboard trailer. You've gotta build it yourself, but it's not hard if you've ever put a box together. You can even construct it so that the back doors flap down just like on the old toy (though the inside just looks like cardboard). From any straight-on side, it looks quite good, but it has issues from angles, especially when the wheels are revealed to be just flat pictures of tires. Still, considering that early word on a trailer for MP Prime was "yeah, right," it's nice to have anything. It looks cool, and Prime's even got a trailer hitch for towing it. The trailer has a license plate that says "OP 20th."
Value: Here's the rub, I suppose. $90 (or maybe $75 for the US version) is a lot of cash. But, as someone who's bought way too many Japanese robot toys, I can tell you that it's really not a bad price for what you get. Your average Soul of Chogokin (which will be about half as tall, but 90% metal) costs about the same, so, in relative terms, it's not a bad deal. Ultimately, this is the very best Op figure you're ever going to have the chance to get. If you love Transformers, or this character, or both, well, you've probably already ordered him. But if you're waffling, I can tell you that he totally lives up. He's big and heavy, and has great detailing and fun features, excellent poseability, and he transforms into a pretty convincing truck, to boot. I am thrilled with this guy! I highly recommend him to any G1 Transformers fan, or just fan of big cool metal robot toys.
Read related articles such as:

Last Updated: September 6, 2021 - 08:15