Comics / Comic Reviews / DC Comics
Wilson and Perker's Air: Letters from Lost Countries
By Leroy Douresseaux
February 25, 2010 - 09:46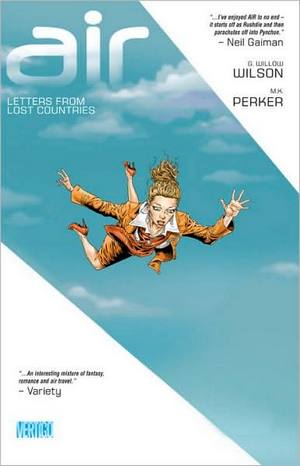 Air: Letters from Lost Countries cover image is courtesy of barnesandnoble.com.
Air: Letters from Lost Countries collects the first five issues of the DC Comics/Vertigo comic book series, Air. Written by G. Willow Wilson and drawn by M.K. Perker (the creative team behind the graphic novel, Cairo), the series focuses on Blythe, a flight attendant who is also acrophobic (has a fear of flying), and the strange turn her life takes during a routine flight to New York City.
With a philosophy degree in a tight job market, Blythe takes the best job available – that of a flight attendant with Clearfleet Airlines. During a flight to America, Blythe first encounters a radical anti-terrorist group called The Etesian Front, which claims to want to take back the skies from terrorists and hijackers.
She also has repeated meetings with a mysterious young man. Although he has multiple aliases, Blythe knows this mysterious traveler as Zayn, an enemy of the Etesians. Blythe will fall in love with Zayn, but she isn't sure if he is an ordinary frequent flier or terrorist. She'll even follow him to Narimar, a country that doesn't exist.
The cover of Air: Letters from Lost Countries has those obligatory book cover blurbs writers provide for each other's work. In some of them (and in some reviews), G. Willow Wilson and/or her series are compared to other writers like Gabriel Garcia Marquez and Thomas Pynchon, and, to be fair, Wilson does reference Pynchon early in this series. Because of the unique nature of this series, Wilson no longer needs such comparisons, as her work can be enjoyed without referencing the lords of the pantheon.
Artist M.K. Perker's earthy style grounds Air, but rather than leach this concept of its magic, that earthy style captures the sense of wonder and mystery that still exists in our world. Perker's distinctive style, sturdy compositions, and quirky figure drawing find enchantment in every scene.
Both in terms of plot and narrative, Air will take you to wonderful places and the fare you must pay is embracing new ideas turned strange and strange ideas turned practical. Air is more than a trip to Dorothy's Oz or Alice's Wonderland. It is an original fairy tale so relevant to our real times.
A-
Last Updated: August 31, 2023 - 08:12