Comics / Manga / Yaoi Manga
Hinako Takanaga's A Capable Man (Yaoi)
By Leroy Douresseaux
March 12, 2009 - 13:04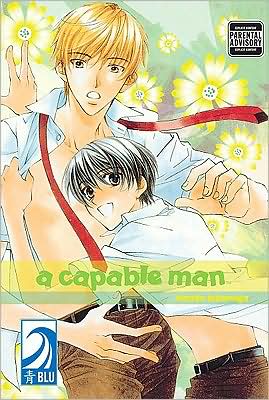 A Capable Man cover image is courtesy of barnesandnoble.com.
Rated "M" for "Mature"
Seventeen-year-old Shingo Maruyama has always liked guys who are exceptional. His classmate, 17-year-old Koji Shimazaki, is an exceptional man, and he's one of the most popular guys in school, not to mention being the smartest student and best athlete. Naturally, Shingo is totally in love with Koji, but Shingo doesn't know just how hard Koji has worked to be exceptional and why? Shingo's cousin, Shuichi, who is also an exceptional man, stops by for a visit, and Shingo literally throws himself at his cousin, That's when Koji decides to show Shingo why he's worked so hard to be exceptional.
THE LOWDOWN: Getting that special person in your life can be easy, perhaps easier than many would imagine. Sometimes, all you have to do is notice the obvious, or at least learn to really appreciate that special someone. A Capable Man, a collection of yaoi manga short stories from creator Hinako Takanaga (The Devil's Secret), contains stories about characters that need to take special notice of the efforts and feelings of the objects of their affections. "I Like Exceptional Guys" and "I Like Adorable Guys," which are the Shingo/Koji stories, essential act like the title stories of A Capable Man because these two stories exemplify all the themes that occur in this collection, but they aren't the only exceptional stories in this volume.
"Something to Hide" is a story about a teacher/student affair, is quite funny. It's misunderstandings between the couple – teacher Yusuke and student Junya – have a slapstick quality. Junya's parents don't know that Yusuke is their son's lover, and believe Yusuke to be simply a teacher who puts that extra effort into looking out for their exceptional son, which gives the scenes in which they appear an extra comic edge. There are even two fetish stories. One is just bizarre, but the second one, "Kleptomaniac," about an uke-type who steals the personal items belonging to a seme-type that he adores, is actually a rather sweetly romantic tale.
As yaoi short story collections go, A Capable Man is not quite as exceptional as some of the fictional characters within its pages, but it is an enjoyable read. Hinako Takanaga is capable of producing some beautiful art. Her work on these stories (presumably created with a staff or assistant) employs a variety of moods, techniques, and styles to give her stories a variety of temperatures – from hot and sexy to adorable and funny. By the end of A Capable Man, I wanted more.
POSSIBLE AUDIENCE: Readers looking for a yaoi collection that offers playful variety and a bit of weirdness and battery will enjoy A Capable Man.
B+
www.digitalmanga.com
www.emanga.com
Shop for Yaoi Delights.
Last Updated: January 24, 2022 - 11:00