Comics / Manga / Yaoi Manga
Hinako Takanaga's You Will Fall in Love (Yaoi)
By Leroy Douresseaux
December 20, 2008 - 13:13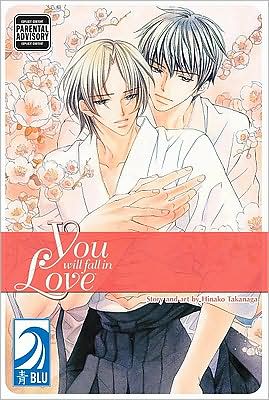 You Will Fall in Love cover courtesy of barnesandnoble.com.
Rated "M" for "Mature"
Haru Mochizuki was a brilliant high school archer, but he was plagued by his love for his rival, Reiichiro Shudo. Unable to admit his true feelings, Haru suddenly abandoned his archery dreams.
Four years later, Haru is a high school teacher when he reluctantly agrees to fill in for the faculty advisor of the high school archery club. Haru fails to recognize the club's prodigy and star archer, but the young man recognizes Haru. Before long, Tsukasa Shudo, the brother of Haru's former rival, reveals himself and shockingly admits that he secretly yearned for Haru while Haru was yearning for Reiichiro. Now, Tsukasa is making strong romantic moves, and Haru finds himself falling for the seduction.
THE LOWDOWN: All these beautiful boys, with their faces full of sadness, worry, and desire, actually make for fun reading. You Will Fall in Love lives up to its title. The characters are so insistent about their feelings and so demonstrative in their actions that the reader realizes that, yes, someone is definitely going to fall in love.
Creator Hinako Takanaga (The Devil's Secret) tells the story in her smooth, supple, rounded figure drawing that evokes soft serve ice cream. Like soft serve ice cream, You Will Fall in Love is delicate and light, but is ultimately empty calories. It lacks the weight of a serious yaoi romantic drama. Still, all those varied extreme close-ups of the characters' faces and the pretty art does make for some good yaoi reading.
POSSIBLE AUDIENCE: Fans of tender, light romance will like You Will Fall in Love.
B
Last Updated: January 24, 2022 - 11:00