Web Comics: An Unlimited Audience
By Avi Weinryb
June 15, 2008 - 11:04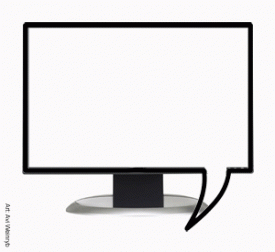 Digital art by Avi Weinryb
.
.
.
As more comic creators begin to embrace the internet as a distribution tool for their works, the audience for comics will continue to grow in new and exciting ways. What was once a medium reserved to shelf space in convenience stores and specialty shops is now a format constrained by nothing. The possibilities for comics in the twenty-first century is limitless, and this means that the audience will continue to expand and stretch out across various online formats and geographic locations. Contributions to this rise include the lack of printed comic books in some locations and the censorship of traditional media. Another contributor to the growth of the web comic audience is the advent of a variety of online publishing options which promote the growth of readership.
A Solution for Scarcity
While the West is rife with comic book shops and book stores carrying serialized comic magazines and graphic novels, some parts of the world are not as lucky. Small emerging communities around the world are able to serve their citizens with basic amenities, including grocery stores, movie theatres, and shopping malls, but a proprietor selling comics is not always available.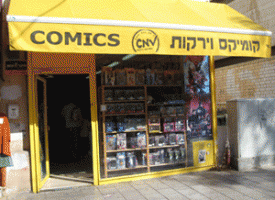 A comic shop in Tel-Aviv, Israel
+
+
In the Middle East, many Westerners have moved to states such as Dubai , Qatar, and Israel , all in search of new career opportunities. Americans, Canadians, and Brits are sometimes taken aback by the lack of availability of comic books when abroad. Israel , as an example, contains only a handful of comic shops. Native born citizens of non-Western countries are often accustomed to the dearth of comic material. One does not miss what one does not have. Yet, the ingrained desire for involving narratives and interesting visuals is quickly mollified by the availability of Hollywood movies and cookie cutter television programming.
Web comics can serve to allow the borderless internet to deliver material to anywhere with an internet connection. Unless a web address is specifically blocked by an internet service provider, the site will show up when requested. Those who live in countries run by repressive regimes will be able to engage with ideas and concepts which they would never find in printed form
Many countries without plentiful exposure to comic books have internet access. More and more people are having their first comic experience via the internet, as webcomics become a popular means of visual expression online. Internet news articles, personal websites, and pop culture portals often contain anything from a one panel cartoon to a regular web strip. Canada 's 'National Post' newspaper usually only carries a daily one panel political cartoon. With the advent of a 'National Post' website, the online paper now features a downloadable widget offering an indexed collection of the cartoons for easy browsing. It is embeddable on other websites which means that fans can easily share the cartoons with anyone with an internet connection. Many web surfers who would otherwise not 'distract' themselves with a comic are now being bombarded with them through chain e-mails and web posts.
The Circumvention of Censors
In Iran , finding a comic book store is likely impossible. There is no entrenched culture of making comics in Iran . It is only in recent years that cartoonists have moved beyond traditional political cartoons. This has an obvious effect on comic book availability, as does the fact that published books are often censored and monitored by the ruling mullahs. But there is widespread internet access.
+
+
Some countries have strict rules regarding what media is available for public consumption. This serves the purposes of ideology. In China , it is difficult to find publications about democracy. Anything considered objectionable is "antisocial material" which threatens "the unity of the nation". In Egypt, it is not easy to find material that portrays President Mubarak in a negative light. In North Korea , it is impossible to find books criticizing Kim Jong-Il. The Committee to Protect Journalists has classified North Korea as the most censored country in the world. State control and formal regulations keep the press and private publishers from facilitating the free flow of ideas. How could one expect comic books to have free reign?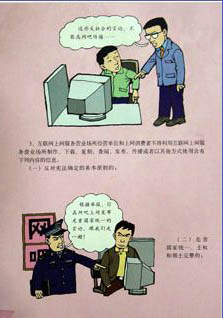 "You should not spread antisocial material on the Internet" on the top, and "Please come with me because you published materials to harm the unity of the nation" on the bottom. Photo Credit: Elizabeth Dalziel/AP via freemedia.at, via globalvoicesonline.org
Comic creation can circumvent censors by appearing on the web. The rise of blogs (personal web logs) as a means of communicating ideas to the outside world has been meteoric. Many bloggers in oppressive countries see it fit to include visuals amongst their dissident views. In a blog from Iran , Jadi, a twenty-seven year old rebel, posts his opinions about the failing human rights within the country. Jadi provides a powerful eight panel comic on the site. It contains no words, but effectively depicts an overzealous government wielding too much authority over its people. Jadi must do anything possible to avoid detection, including typing in English and making use of web comics. A Farsi language blog was filtered by government forces, according to the author. Jadi is not the first person to craft a personal website which contains web comics of a political nature. This is a phenomenon that has risen globally. And as it does, more people are exposed to web comics.
Government censor programs monitor the internet and block websites and search queries based on a list of key words. China has been practicing this censorship for many years. But images are not as easily censored for political purposes since web trackers do not contain the intelligence required to examine images and detect controversial ideas. There are key words, not key images. These can only be found manually. This means that many will slip through the cracks, leaving the gate open for cartoonists to craft subversive series and one-off political cartoons. It also means that the readership of web comics has enormous potential for growth. Anyone in the world with an internet connection, whether it is on a personal computer or mobile device, is a potential reader.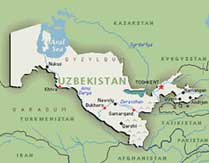 Uzbekistan - Its censorship of a cartoon pushed people to find it online

Countries with a completely free press produce political web comics with no hesitation. Political web comics such as ' Get Your War On' and ' Day by Day' have popular followings in the United State s . Nations with more restrictive policies also contain highly critical web comics, since it is a difficult medium to control. In Uzbekistan in 2005, human right worker Yelena Urlayeva was arrested and placed in a mental institution because she had spread printed copies of a political cartoon criticizing the corruption she saw in her government. Its dissemination has since flourished online as a web comic. With internet running rampant in both the developed and developing world, comics can ease their way into the homes of many people; comics with a political twist have the potential to inspire dissidents, spread the practice of critical thinking, and also allow a fresh cultural experience for readers. This has yet to be concretely proven, but the undeniable potential exists. Governments seek to control their messages. By spreading alternative perspectives, web comics can help readers see things in a fresh new light.

"Hey, it's a comic!"

This article has demonstrated that the web comic format has incredible potential beyond its ability to fulfill the needs of those in comic deprived countries, and readers living within regimes based on restrictive policies. It can also enlarge the comic reading audience by incorporating itself into different kinds of websites. Web comics can be embedded into Facebook profiles, blogs, news sites, and even video sharing sites. Mark Crilley posts popular webcomics on his YouTube page at http://www.youtube.com/user/markcrilley . More and more people are being exposed to comics through the web all the time. Comics used to be considered a mere distraction crafted for the minds of children. It is now an ever-growing, powerful medium with the potential for an unlimited audience. And on the internet, it is spreading all the time.
Last Updated: January 24, 2022 - 11:00