Comics / Comic Reviews / DC Comics
Unknown Soldier #24
By Andy Frisk
October 7, 2010 - 23:03
Moses Lwanga, The Unknown Solider, who has waged a war against Joseph Kony and his LRA army for the past two years in the pages of Unknown Solider, is finally near to achieving his goal of killing Kony. As Lwanga's final assault on Kony's compound begins, series writer Joshua Dysart begins to tie up the loose ends and fill in the blanks in Lwanga's tale. In a near issue long flashback to a conversation between Lwanga, the current Unknown Soldier, and the still unnamed, but instantly recognizable, original Unknown Soldier, not only is the current Soldier's story told, but the original Soldier's story as well. The original Soldier, who was in his 70s at the time of his meeting with Lwanga, then known only as Subject 9, tells him his story. It is a tale that any reader of any of the scant appearances or decades old tales of the original Unknown Solider is highly familiar with. It appears that the original Soldier, as he was nearing the end of his life, was not only searching for his replacement, but wanted to turn over a new leaf as well. He was willing to provide Subject 9 (the man who would become Moses Lwanga and then the new Unknown Solider) with a new life. A life that appears to have been far removed from the life that was chosen for him…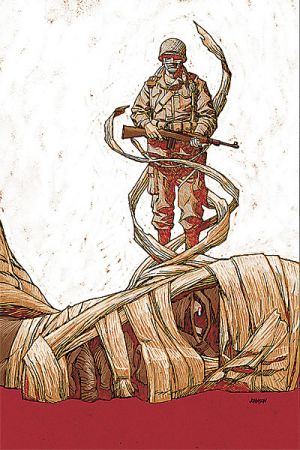 Unknown Soldier as we know it ends next issue. Joshua Dysart's important series is meeting an untimely death, but he is doing a great job of bringing it to a logical conclusion, mostly because he was probably lucky enough to be given the time to do so. Unfortunately, for a long time reader of the original Unknown Soldier's stories, and avid fan of the new Soldier's stories, most of this next to the last issue of the series is spent on retelling the original Soldier's history and story. Fortunately, Dysart incorporates elements of Garth Ennis' Vertigo re-imagining of the original Unknown Soldier from his brilliant Vertigo mini-series published over a decade ago. Ennis' series painted the original Soldier in a bit of a negative light. He was a soldier who lost his way after all the years of constant war. Dysart redeems him. If Dysart's current Unknown Soldier character is going away and the original is to be reintroduced, presumably like Haunted Tank has been recently after a short stint with Vertigo, then hopefully he'll have a hand in any new tales involving him. Well…at least I can hope.
Perhaps, Unknown Soldier, as conceived and executed by Dysart, was just too much for the average reader to swallow every month. It definitely has been a dark and bloody book, but it has told the very real and heart wrenching story of a very real and very specific region and conflict. The main villains of the story, Joseph Kony and his LRA army, are very real characters who are also the architects of some very real death and destruction. Rarely have we seen a comic book take on such a serious real world political and humanitarian issue in a way Dysart's book has. Dysart probably had this currently unfolding resolution to his tale in mind for some time, and bringing in the original Soldier and effectively introducing him to a new generation of readers is a smart move, but I would have rather experienced this superb ending much further down the road after many more issues had been published. This series had so much potential to branch out and address other war and humanitarian issues like Dysart did with his stand alone issue titled "Kalashnikov" and his story arc "Easy Kill." It really could have gone on to become a brilliantly sprawling commentary on war and man's inhumanity to man much like Neil Gaiman's Sandman and Mike Carey's Unwritten are brilliant sprawling commentaries on storytelling and the effect our stories have on our collective conscious and unconscious.
Unknown Soldier's regular artist Alberto Ponticelli has been perfectly suited to bringing Dysart's vision to life. His jagged and rough hewn pencil strokes, that at times border on looking almost sketch-like, have horrifically conveyed the horrors of war and the evil than men often do to other men, women, and children. Some of his panels are almost surreal in their distortion and jaggedness. They convey the horror of war and violence in a sort of near Picasso-like Guernica way. Hopefully, Ponticelli will get another worthy opportunity to continue to disturb and inspire us, and other artists, with his unique style.
There's one more issue of Unknown Soldier left to be published, and then of course the final trades, so there's still some more new Unknown Soldier left for us to experience. After that, we can only look forward to Joshua Dysart's next opus, which he just might find himself hard pressed to make as powerful as his current one. It's a worthy challenge though, and I'm sure he's more than up to it.

Rating: 10 /10
Last Updated: February 5, 2023 - 09:06