Comics / Comic Reviews / Marvel Comics
Ultimatum #4
By Zak Edwards
June 18, 2009 - 17:19
Once again, Jeph Loeb has delivered a piece of drivel definitely not worth the effort to write about. And yet, here I am, trying to find new ways of saying how awful this event has been for the Ultimate Universe. At one time, Marvel Comics' Ultimate comic books were amazing, Mark Millar's Ultimates was chocked full of action and terrible people (ie, the Ultimates themselves) involved in heavily politicized adventures. The Ultimate X-Men were also a much grittier and more morally ambiguous team bringing the severity of racism and prejudice back in ways which had become diluted in the original. And Ultimate Spider-Man, with its amazing ability to make Peter Parker much more interesting than Spider-Man, was a joy to read every issue. Then, somewhere, everything went downhill, really downhill, and now Ultimatum brings it as low as the entire line can possibly go.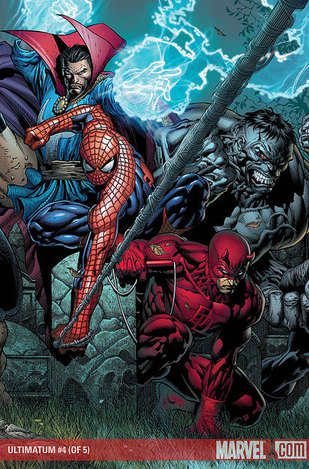 A quick note, I spent more time reading the latest issue of Ultimate Spider-Man, which was a silent issue (no words at all), then this issue of Ultimatum, it's that shallow. Also, the apparent death of Peter Parker, which occurs in both of these comic books, had more of an impact in Ultimate Spider-Man, once again, without any words! As this series has progressed, Loeb has been setting up for a big, splash page heavy, finale which will pit Magneto against a bunch of heroes in another issue which will read as fast as this one. But none of that happens here. Nope, instead we have another issue of forces gathering and saying goodbye. Wolverine tells a devestated Kitty Pryde she's a good kid before going to do what he does best or whatever. After that, nothing really happens, honestly. Oh, Magneto gets his arm chopped off and apparently survives to say some stereotypical lines about, well, I forget. There is no intrigue, no intelligence, and certainly no point anymore. This is the type of book you go to the comic book store and read without purchasing, and I have never condoned that sort of behaviour before.
And when I said shallow before, nothing encapsulates shallow like David Finch's artwork. His work makes Barbie dolls look like regular, run of the mill human beings. It's his sort of awful, hyper-sexualized artwork which continues to make comic books look like nothing more than fan service for perverts. It's sickening and, worse, I understand why he got the job. To me, David Finch's artwork represents one of the many roadblocks keeping comic books from becoming more widely recognized.
Last Updated: January 24, 2022 - 11:00