Transmission-X X-posed
By Andy Doan
September 6, 2009 - 15:02
While at this years
FanExpo in Toronto
I had the good fortune of meeting Ramón Pérez of
Transmission X comics
. Transmission X had sequestered a large portion of artist alley at the convention in an attempt to gather attention to their small but growing collective. Well it must have worked on me. After the dust settled from our trip to "Big Smoke" I found myself surfing over to their web site to see what they have to offer.
Taken directly from their
"About" page:
"TRANSMISSION X (TX) is a collective of professional illustrators and cartoonists who are united by their desire to produce top-flight comics." To the rest of us it looks more like a portal for a small number of specially selected, on-going web comics.
Transmission-X contributors are also joined in their desire to work without editorial direction or control. To me this means that they are using their output linked with the group to blow out some creative steam on the side while bringing home the bacon with work done for the big publishers. Further evidence of this can be observed in the absence of any form of ad space or store. Also I noticed from their introductory video cast that these artists are working out of the same studio space. Sharing bills and creative energies with the benefits outweighing the sum of it's parts.
Transmission-x.com is a clean, easily navigated, professionally designed web-site with prominent links to their stable on-going serials. Beyond the links you'll find a wealth of information about the artists and comics. They also host a well traveled discussion forum and links to where the network can be found on your social network of choice ( Twitter: http://twitter.com/txcomics ). The home page is the place to go for everything you think you need to know about the group including an informative video cast.
TXTV
as it's called is Transmission X's behind the scenes video that provides fans of comics in general a preview of upcoming releases as well as in depth discussion from the artists about the creative process. This feature is one of the most valuable resources of the site worthwhile for pure fans and aspiring comic creators alike.
The only problem with the site in my opinion is the "Library" tab located on the main navigation bar at the top of each page. My guess is that it should take me to a listing of all comics produced by the collective on-going or not. After clicking the button I was brought to a page not unlike every other page with four more title links offered. I wasn't sure if the new links were to completed or discontinued series. The distinction may be in order as some readers sometimes only begin to read a series if they know it's in a completed state. A small distraction in an otherwise cohesive experience.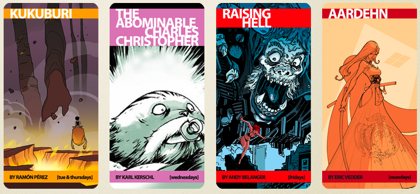 Like I mentioned before the predominant feature of the site is it's links to it's featured series of comics (rightly so). I'm not going to go into great detail about each title at this point as these works deserve attention beyond the scope of this introductory article (stay tuned for feature articles). I will however say that each title is beautifully featured and written up. Expect to be re-directed away from the main site to the titles personal page if you click the link as none of the comics are hosted on the TX domain directly. The decision to do this was well made as each comic is given a personalized page to allow fuller emersion in with the work. On each individual comic page you find evidence or tribute to the greater collective in the way of banner ads and links back the main portal page. Altogether in effect and mechanism keeping with the over-all professional look and feel of the main site.
Previously web comics have found their success more or less accidentally. Creators begin putting out a quirky original product that a large audience just stumbles over for whatever reason. As this (the web) delivery method for comics becomes more pervasive originality alone becomes less of a defining feature. Although it remains to be seen if Transmission X will bubble to the top of the variable sea of creative works available on the web it's hard to deny that they have a lot more going for them then most. With a firm and obvious strategy guiding them and a high level of professionalism present in what they offer any talent for story telling is purely a bonus.
Look for articles featuring each Transmission X title coming soon.
Review of

Ramón Pérez's

Kukuburi
Last Updated: September 6, 2021 - 08:15