Comics / Comic Reviews / More Comics
Transformers – All Hail Megatron # 15
By Hervé St-Louis
September 20, 2009 - 20:36
This issue, Prowl shares his inner turmoil and plans to have the Autobots defeat their opponents the Decepticons by planting the seed of order in the midst of the Autobots, the only way he knows how. But other Autobots are on to him and his deceit may be discovered and rectified. Will Prowl's plan work or will the Autobots defeat themselves once again?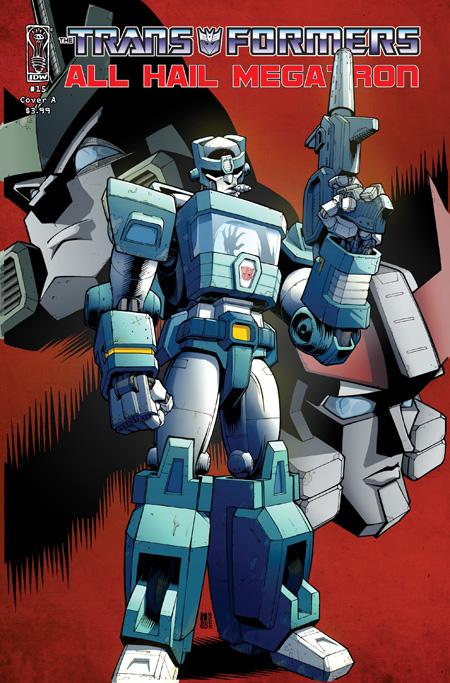 I wasn't sure where this series would go after the defeat of Megatron, but IDW Publishing has finally understood that changing the name of a series and publishing shorter mini-series every six months was confusing its customers. Although there in no Megatron in sight in this issue, it's still great work focusing on the personalities of some of the Autobots, like never before. I really understand Prowl's point of view and the thoughtful discussion he has with Perceptor, pointing to him that his behaviour was no different than that of other Autobots, showed that truly mature material can be woven about the Transformers and challenge the kid in me that has been following these characters since they debuted way back in 1984. That I would be surprised by the study of Prowl's personality is not something I was would have thought possible. This series is clearly following the lead the lead of the first issues of this series that equally studied the motivations of the Decepticons. This material is incredible.
Roche's work is more angular and less symmetrical than Coller, but it has its own vibrancy. As the writer and artist, this series it's odd that he did not better plot the layout of his page as he had so much text that it made his artwork less important to read. Still he tried to make it as kinetic as his story would allow it and that is a good thing. Coller's visuals are colder. He makes the Transformers into real machines, not humans that munch on cigars. But it's quite good and closer to what Dreamwave artists did when that company had the license to the Transformers.
Rating: 9.5 /10
Last Updated: January 24, 2022 - 11:00