Comics / Comic Reviews / More Comics
Transformers: All Hail Megatron #11
By Hervé St-Louis
May 28, 2009 - 21:22
Optimus Prime meets Megatron head on and they will decide the faith of the planet. But world governments won't wait for the two Transformers' leaders to figure out what to do. They plan on bombing the city of New York to obliterate the Transformers' threat. Is it too late for the Autobots and America?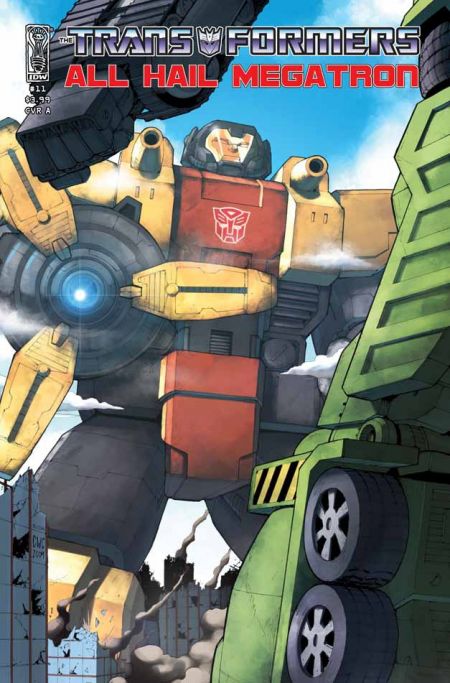 The subplots featuring humans always annoy me in the Transformers. I can't explain why. Even in the movie, I always feel like they encroached on what this viewer really paid for – giant robots ducking it out. If I wanted to read about human soldiers in dire circumstances, I would read G.I.Joe. So this issue is full of human interference which annoys me. I literally feel like skipping the pages. I guess some human interaction is needed to make this story work, but with all these Transformers with different personalities, why not focus more on them rather than some forgettable human which most readers don't care for anyway? The only scene I like this issue was the pep talk Megatron gave to Starscream to get him to fight. Everything else, and especially the human sequences, bored me.
I'm not sure what's happening with the artist. It credits one person, but it feels that many people worked on this issue. His dusty pencil feel doesn't work or me. The Transformers need a clean style with good inking to look good. The colouring did not help make them look like they were made of metal either.
Rating: 6.5 /10
Last Updated: September 6, 2021 - 08:15