The Astronaut Farmer
By Mitch Emerson
February 23, 2007 - 16:50
Title: The Astronaut Farmer
Starring: Billy Bob Thornton, Virginia Madsen, Bruce Willis, Bruce Dern, Tim Blake Nelson
Directed By: Michael Polish
Produced By: Paula Weinstein, Len Amato, Mark Polish
Genre: Comedy, Drama
Release Date: February 23
rd
, 2007
MPAA Rating: PG
Distributors: Warner Independent Pictures
Dismissed from NASA's space program, former astronaut-in-training Charles Farmer (Billy Bob Thornton) pursues his lifelong dream by building his own rocket, in the Polish Brothers' family film "The Astronaut Farmer." On the eve of his launch, Farmer must battle foreclosure on his ranch and a small-town community of disbelievers, while simultaneously drawing heavy scrutiny and surveillance from the FBI, CIA, FAA and the U.S. military, all of which see him as a potential risk to civilian safety and will take the necessary steps to shut down his operation. But he remains determined to reach his goal and instill in his children the courage to pursue their own dreams, no matter the odds.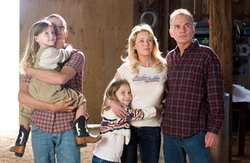 Lame title aside, The Astronaut Farmer is a pretty good movie. It is being labeled as a comedy and while having some comedic moments I feel that it is not the correct label. Plain and simple, it's a feel good movie. Not knowing what to expect I was pleasantly surprised at this tale of realizing your dreams. Michael Polish delivers a movie that doesn't tread any new ground, but then it doesn't really need to. You feel for the characters and their trials and tribulations and cheer when things go right for once.
Billy Bob Thornton plays Charles Farmer with a sincerity that almost makes you believe that this movie is possible, because let's face it, building a rocket ship in your backyard is a little hard to swallow. Helping him build the rocket (and the feeling of a real family) is his wife Audie played by Virgina Madsen. Madsen does a spectacular job as the supporting wife, even going so far as to let him rebuild it after a failed attempt that leaves him in the hospital. Rounding out the wonderfully close knit family is Max Thieriot as Shepard, the 15 year old son and Senior Flight Officer for this backyard brouhaha. Also part of the family are two daughters, who I can't seem to find any mention of, but that's ok because they are really only there to look cute. Other cast worth mentioning is Bruce Dern as Audie's father, and Bruce Willis as Farmers former CO.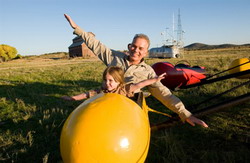 The only real problem with the movie is the addition of two inept FBI agents played by Jon Gries (Uncle Rico in Napoleon Dynamite) and somebody else who isn't listed as an FBI agent so I don't know who he is. Anyways, they just seem to be in the film for comic relief which isn't needed. This film stands on it's own and doesn't need comedy for comedy's sake. Not to mention that they aren't all that funny in the first place.
My honest opinion? As good as Billy Bob and the rest of the cast are, wait for this on DVD. It is definitely worth seeing, just not on the big screen. A good family movie for families with teenagers on up.

So, until they actually let Billy Bob on a shuttle,
keep reading.
Mitch Emerson
mitch@comicbookbin.com
Last Updated: September 6, 2021 - 08:15