Comics / Comic Reviews / Marvel Comics
Thanos Imperative #3
By Colin Andersen
August 11, 2010 - 21:21
Ever since my older brother let me read his back issues of Silver Surfer from the early 90's I have been a huge fan of Marvel Comics' cosmic books. These are the books that tend to star some of the really powerful Marvel characters and they tend to have some of the greatest and most powerful villains to fight. This was the part of the Marvel Universe where literally anything could happen, so I've been following the past 4 years worth of resurgence on the cosmic side of Marvel. Writers Dan Abnett and Andy Lanning have done an absolutely stellar job in reinventing all of the space-based characters and even added some ones that weren't associated with it. I was probably most excited upon the announcement of the Thanos Imperative series which promised to bring back the character of Thanos, who Abnett and Lanning (often called DnA) had previously killed. Thanos, aka The Mad Titan, is both an incredibly smart and strong villain who once managed to kill half the universe before the heroes stopped him. To say I wanted to see him brought back to life was an
understatement.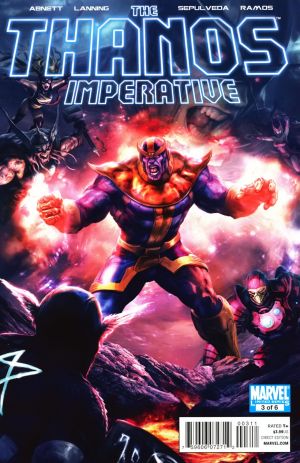 Unfortunately, thus far,
Thanos Imperative
hasn't quite lived up to the, admittedly lofty, expectations I had set for it. Don't get me wrong, this is still a good series with some great action. The beginning of the issue gives you a very real sense of the stakes the heroes are facing here. After the opening, though, the issues slows down quite a bit to make room for exposition. This isn't too much of a problem as the plot never gets boring, but the I didn't really like some of the turns the plot took. I will say I did like the origin of the villains who come from the alternate reality "Cancerverse," though I didn't like how this corrupted their universe so much. It felt kind of like a rehash of a plot point from an older Marvel Comics series called
Paradise X
. That being said, that doesn't mean that DnA can't turn this into something more interesting and I think they have earned the benefit of the doubt, at least from me. My only other really problem is that the titular character, Thanos, seems under-represented. Not under-represented in that it bothers me that so many other characters get more time than him, but that, at least right now, he comes of more as a plot device to help stop the villains than a fully realized character. He just doesn't seem quite as integral to the story to me as he should.
I also have some issues with the art. Three issues in and I still don't think that Miguel Sepulvelda is the right artist for this series. He's not bad, but his art rarely feels as dynamic as the art in a series like this should. He also seems to rely very heavily on shadows making many panels feel too dark and cluttered. His Thanos is suitably large and intimidating though. You do feel like Thanos could rip apart anyone that gets in his way and the last page of the book didn't make me feel any differently about that. I'm not a huge fan of most of Sepulvelda's character designs, beside Thanos and some of the cosmic entities though. If he could just brighten future issues up, everything could look significantly better and less muddy.
This is sadly DnA's weakest work since becoming the architects of the cosmic Marvel Universe, which is too bad since I was so hyped for this book. There is still room to improve and if Abnett and Lanning can bring Thanos into the story more, it could be a hugely awesome series. The general plot is there and the characters are there, I just want to see the actual issues grow into the framework and deliver the story and crazy action I want to see.
Rating: 7 /10
Last Updated: September 6, 2021 - 08:15