Tactics: Volume Two
By Julie Gray
October 29, 2006 - 03:45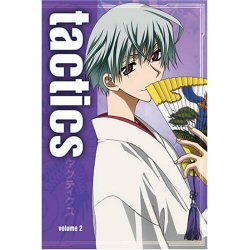 Tactics DVD Cover
Based on the manga by
: Sakura Kinoshita and Kazuko Higashiyama
Episodes 6 - 10
If it weren't for ghosts and goblins, half of the anime movies out there wouldn't exist today. And Tactics is no except because it's all about ghosts, well, in a round-a-bout way. It's really about two characters; Kantaro and Haruka who seem to spend their time hunting down ghosts and strange phenomena.
On the side, Kantaro is actually a writer but the episodes on this DVD don't seem to delve too deeply into this side of Kantaro's character. Haruka seems to be the token 'Bishonen' (pretty boy) goblin posing as a human and the other two main characters, Yoko and Suzu have minor roles who pop up every now and then throughout each episode.
Although the subject matter in general is interesting enough, it fails to really deliver anything new. Each episode is clearly distinguishable from the next which is good but the character development seems to be a tad slow, especially for the second volume in the series.
The first episode titled 'The Ghost Trolley Departs at 9.06PM' is a freakish little story about a train trolley that mysteriously appears out of nowhere at exactly 9.07PM. Hakura and Kantaro are on the scene to try and figure out why the trolley keeps appearing. An equally mysterious little girl is somehow linked to the appearance of the trolley and thus, the episode starts to take form.
The second episode titled 'A Seductive Beckoning' seems to have a little more depth than the last and focuses on several different aspects of the relationships between the characters. We get to see a different side to Kantaro that is more calculating and forceful, especially when pushed by Hakura. Kantaro is approached by the butler of a very 'well-to-do' individual that asks for his help to investigate a kidnapped girl. This episode is a little more serious than the previous episode but still fun to watch.
Episode 8 ' A Foxy Lady' focuses on Yoko's character and in particular, her relationship with Kantaro when he accidentally eats her food without asking. Yoko decides to make it on her own and leaves the house with Kantaro, Haruka and Suzu wondering where she has gone. The moral to the story relates to taking your friends for granted and Yoko certainly goes out of her way to make sure that Kantaro knows how she is feeling.
Episode 9 titled 'The Strange Tale of Bride Island' deals with a man eating Island and Episode 10 titled ' Will of the Winds: Part One' is about a few mysterious disappearances in a village that Kantaro and the team have to travel to from Tokyo. Once there, they meet a charming young woman who has two twin daughters. There seems to be a lot more going on than the woman will let on but nothing stays hidden for long with Kantaro on the scene.

This anime is beautifully presented and the animation is superb. The stories that unfold in this volume are interesting yet perhaps seem to be following a pattern. An anime about ghosts and strange phenomena is always interesting to watch but it just seemed like there wasn't enough of the really 'scary' stuff to make it more enjoyable.
To summarise, this manga-to-anime adaptation will be interesting and fun to watch for younger audiences, but if you're looking for something about ghosts and strange phenomenon that will truly freak you out, you might want to check out titles similar to that of ' Requeim from the Darkness' which is darker and a little more graphic than Tactics. This DVD comes with bonus features and a nicely presented menu that is easy to navigate. The bonus features include a Photo Gallery, Motion Menus and Original Japanese with English Subtitles.

Animation: 9/10
Story: 7/10
DVD Extras: 7/10
Contact the Author: Julie@comicbookbin.com
Last Updated: September 6, 2021 - 08:15